News
MOU – HIT and ITS (Indonesia)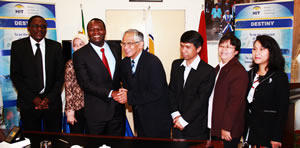 The Harare Institute of Technology has signed yet another milestone agreement of collaboration with the Institute of Technology Sepuluh, Nopember (Indonesia) with the objective of facilitating mutual friendship, academic research and educational cooperation between the two institutions.
The agreement also covers collaboration in promoting both academic research and enhancing educational opportunities for students.
In order to promote this cooperation the two institutions may undertake various activities such as the exchange of academic staff for the purpose of research, teaching and presentation of special courses in their fields of specialization, establishing research programmes, exchange of undergraduate and post graduate students in respect of specific research projects or courses of interest and importance.
The Harare Institute of Technology and Institute of Technology Sepuluh Nopember agreed to collaborate in the establishment of dual or joint degree programmes for undergraduate and post graduate studies, exchange literature produced by either or both of the parties, as well as the exchange of material on the most relevant and topical research undertaken by researchers of both institutions, organisation of conferences, seminars and symposia of mutual interest to the institution and other activities mutually agreed upon by the two institutions.
His Excellency, the Ambassador of Indonesia in Zimbabwe Mr Eddy Poerwana graced the occasion of the signing ceremony accompanying the ITS delegation headed by Prof Budi Sandosa who signed the Memorandum of Agreement representing the Institute`s Vice Rector Professor Darminto.
In his speech at the signing ceremony, Vice Chancellor Engineer Q.C Kanhukamwe commented the various programmes and courses offered by ITS. He was hopeful that the courses will be of interest to HIT academic staff and that through this collaboration HIT would benchmark itself with world class universities.
"We are also hopeful that we shall become one of your best partners in Africa, supporting new graduate studies together and have joint supervision of undergraduate and post graduate programmes as well as accelerating the development and application of Technology in consonance with our industrialisation ambitions", said Vice Chancellor Kanhukamwe.
Professor Budi Sandosa, the Head of the ITS delegation also expressed hope that this is the start of fruitful collaborations in research, student exchange and other collaborations.
The Institute of Technology Sepuluh Nopember, (Indonesia) was founded as the yield of the Conference of Indonesian Engineering Council in 1957 in Bogor.
At present ITS has five faculties, namely Faculty of Mathematics and Natural Sciences (Science), Faculty of Industrial Technology (FTI), Faculty of Civil Engineering and Planning (FTSP), the Faculty of Marine Technology (FTK) and the Faculty of Information Department of Technology Degree. It also manages two state polytechnics, Surabaya State Shipping Building Polytechnic and the Surabaya State Electronics Polytechnic.
Its main campus is situated in the eastern part of Surubaya and it has a total student population of 17 000 and a teaching staff of approximately 1000. As a centre of academic works and research, ITS has strong links with industries, governmental institutions, non-governmental, local and overseas universities and organisations.