News
SA Minister Visits HIT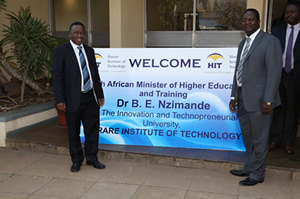 The South African Minister of Higher Education and Training, Dr Bonginkosi Emmanuel "Blade" Nzimande recently paid a courtesy visit to the Harare Institute of Technology whilst he was on an official visit to Zimbabwe.
Dr Nzimande was accompanied by officials from the South African Embassy in Zimbabwe and those from the Ministry of Higher and Tertiary Education.
In his welcome remarks, the HIT Acting Vice Chancellor, Engineer Q.C Kanhukamwe said the Institute was grateful to hosting the South African Minister and this shall pave way to seek and cement some collaborative agreements with some South African universities. He went on further to give a brief account of how the Institute was established, its national mandate, cause, calling and its core values.
The Minister was taken on a tour of the Institutes' campus workshops, laboratories and other facilities. Dr Nzimande expressed his appreciation of HIT`s unique academic programmes and its thrust on technopreneurship training, teaching its students to be entrepreneurs and producing whilst they are learning, a concept which he said was lacking in most South African universities.
Dr Nzimande (born 14 April 1958) is a South African politician who has been Minister for Higher Education and Training since 2009. He has been the General Secretary of the South African Communist Party since 1998.He has a doctorate degree in philosophy specialising in sociology. He came out strongly against the concept of Nationalisation at the COSATU conference in June 2011.