News
All Set for the Second Edition of the Technovation Day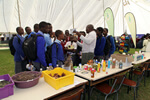 All is set for the hosting of the second edition of the Technovation Day on Friday 22nd July 2016 from 0930hours to 1600hours at the HIT Campus in Belvedere, Harare.
This year's edition is running under the theme "Disruptive Thinking, Big Ideas" and is being held in partnership with StarFm.
The Technovation Day showcases HIT's research and development outputs including intellectual property such as patents, industrial designs and utility models. This is a platform for academics, students, pupils, industry and commerce to interact, share ideas and motivate each other to proffer solutions to the various technological challenges and create an environment for rapid industrialisation and wealth creation.
The Technovation Day also provides companies/organisations in the science, engineering and technology sector with a platform to promote innovation and technoprenuership amongst Zimbabweans as a tool for economic revival and rapid industrialization as well as advancing and keeping alive the STEM initiative by showcasing the Careers of the Future. It also aims to raise technological awareness among students, pupils as well as industry and commerce.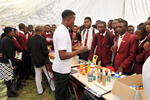 The Harare Institute of Technology's Communications and International Relations Director, Mr. Tinashe Mutema said the Technovation Day is held to provide an opportunity for networking and building partnerships with organisations within the same sector, as well as providing a platform for identifying research problems.
"Specifically relating to high school pupils pursuing science subjects, the Technovation Day is held to expose them to various innovations and developments within the science and technology sector with a view to motivating them to become innovators and wealth creators. The pupils are also given the opportunity to interact with individuals within the corporate sector and get information on career opportunities from HIT academics," said Mr. Tinashe Mutema.
HIT Vice Chancellor Engineer Quinton Kanhukamwe said the Technovation Day is meant to expose future scientists and technologists to the various dimensions that science and engineering can take. "This exposure will help them to make a firm commitment to take up engineering and technology as careers," he said.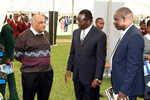 HIT successfully hosted the inaugural Technovation Day on Friday 19 June 2015 at the Institute campus with over 2000 high school pupils from across Zimbabwe attending the event.
Most pupils who attended said they were inspired by the Technovation Day because they learnt about the value and importance of being innovative. They were also impressed with the various technologies on display at the various HIT department.