News
Cyber Crime Management Conference kicks off
The Cyber Crime Management Conference kicked off today at the Manna Resorts in Glen Lorne, Harare.
The conference will run until Friday, October 5, and is being held under the theme "Transforming the Nation in the face of Cyber Threats."
Over 100 participants from diverse sectors including parastatals, the defence forces, the police, universities, the banking sector, the legal fraternity, ICT sector, the Church, insurance industry, audit are attending the event.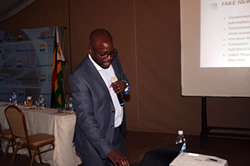 Tendai Marengereke, Lecturer in the Information Security and Assurance department at HIT began the proceedings with a presentation on New and Emerging Threats of Cybercrime and Cyber Terrorism. Cade Zvavanjaja followed with a presentation on the Impact of Cyber Crime in the 21st Century, and National Prosecuting Authority Principal Public Prosecutor Clemence Chambari gave insights into Cyber Crime Law and Procedure/Evidence Presentation in Court.
The afternoon session will begin with Tatenda Mujati, Head of IT from Grant and Thornton presenting on Risk Analysis, Penetration Tests, Mitigation and Security Audits, and Legal Practitioner Rufaro Mhandu from Muvingi and Mugadza Legal Firm speaking on Cyber Law Litigation.
The Vice Chancellor of the Harare Institute of Technology, Eng. Quinton Kanhukamwe will officially open the conference on Friday.