News
Students urged to develop entrepreneurial mindset
The Technopreneurship Development Centre, held a public lecture under the theme "Developing an entrepreneurial mindset" on 12 September 2018.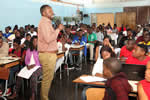 The lecture focused on unlocking self-awareness on the part of students, nurturing them to identify their personal vision and pursuing it with passion and confidence.
The speaker, Mr Tonderai Mandaza, an Entrepreneurship Educator, Business Consultant, Leadership Mentor and founder of LeVision Consulting Africa, challenged the students to initiate sustainable business projects.  "By God's design, everybody is entrepreneurial as we have different gifts and talents. If you pursue money, without knowing yourself and establishing your gift and talent mix, you may end up leading a failed business," he said.
Mandaza encouraged students to know who they are by exploring how they can increase their self-awareness. "By studying your parents and grandparents genetic wiring, you will realize, you are more of your grandparents and need to monetize your gift or talent mix. Aligning your gifts and talents to a specific industry or sector initiates the process of starting something that will never fail. It is very important for any entrepreneur to understand his or her role as the company founder, he said. Entrepreneurs devise new things, new ideas, new approaches to solve a particular problem, he added.
 "You must be critical thinkers in your fields of study. Running a business is filled with challenges, but if you increase your self-awareness, have the willingness and the wherewithal to persist, willingness to work very hard, you will greatly improve your odds of success. Self-awareness, hard-work, understanding your role as a company founder and critical thinking are the keys to establish businesses that never fails," said Mandaza.