News
HIT establishes Design Thinking Lab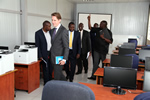 The Harare Institute of Technology has established an Innovation and Design Thinking Laboratory, (IDTL) to provide a critical space for innovation and creativity.
The project is being funded by the United Nations Development Programme in Harare.
In an interview, Pro Vice Chancellor of the Harare Institute of Technology, Dr Maxwell Chanakira said the concept of design thinking is meant to promote and enhance thought processes which can lead to faster development for our nation and the region.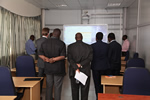 "The Innovation and Design Thinking Laboratory is a place where we provide space. In this space, participants are free to think and dream of things they want to do in solving problems and challenges they face in their different communities. This place will spark and enhance the innovation capacity of our students, and a multiplicity of target groups from companies, government departments and non-governmental organisations," he said.
The IDTL will take participants through processes of thinking, innovation, empathy, and will inculcate the processes of critical and independent thought, - which ultimately lead to development.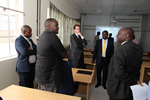 Dr Chanakira said the IDTL is the first of its kind to be established in the region, and plans are underway to make the IDTL a Centre of Excellence in innovation and entrepreneurship in Africa. 
Dr Chanakira revealed that the first training in the IDTL will be made up of University Directors of Information and Communication Technologies. Facilitators of the programme will be from all over the world- Asia, Africa and experts from HIT would also be engaged to train students on innovation and leadership.