News
HIT Hosts 10th Anniversary Celebrations
The Harare Institute of Technology marked its 10th Anniversary celebrations on Thursday 27 August at the Institute campus in Belvedere.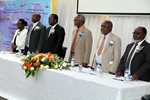 Government officials, foreign envoys, captains of industry and commerce, representatives from fellow universities and tertiary institutions and the students and staff of the Harare Institute of Technology attended the event.
Guest of Honour at the event, Chairman of the Zimbabwe Council for Higher Education, and renowned academic, Professor Christopher Chetsanga, extolled HIT for delivering on its mandate and for making a significant contribution to the development of the Zimbabwe.
The Vice Chancellor of HIT, Engineer Quinton Kanhukamwe outlined the development path that the institution had taken since its inception in 2005 and the host of achievements under the Institute's belt.
Several speakers offered congratulatory messages to HIT, including the Student Representative Council, the Workers' Union, Academic Staff represantitives, the Zimbabwe Council for Higher Education, (ZIMCHE), Chinhoyi University of Technology Vice Chancellor, Professor D.J Simbi representing Zimbabwe's universities and STEWARD BANK CEO, Dr Lance Mambondiani.
In his welcome address, the Board Chairman, Dr Gibson Mandishona hailed the Institute for the tremendous inroads it had made and for "exclusively focusing on the furtherance of the HIT mandate".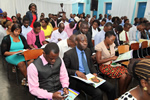 "We have much to celebrate, our emergence and leading voice on the national stage as a critical player in Zimbabwe's technological revolution, our clear articulation of the HIT mandate, our uncontested space in the community of universities in Zimbabwe and our contribution to the human intellectual capital base of Zimbabwe", said Dr Mandishona.
After a vote of thanks by the Institute's Registrar Mrs Mary Samupindi, the HIT Vice Chancellor Eng. Kanhukamwe led the delegates to a mini exhibition where the Institute was showcasing its research, intellectual and development projects.
The phenomenal HIT choir provided a unique blend of acappella music and rap, complemented by the Air Force of Zimbabwe Brass Band.