News
HIT Hosts First Ever Global Entrepreneurship Summit in Southern Africa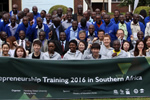 The Harare Institute of Technology was priviledged to host the first ever Global Entrepreneurship Summit from 25 to 30 January 2016. The Summit was hosted in partnership with the Handong Global University with support from the Korean Government and the United Nations Educational Scientific and Cultural Organisation, (UNESCO).
Over 100 participants attended the one week workshop which sought to impart entrepreneurship skills – with participants receiving instruction on ideological precepts to entrepreneurship; strategic planning, business strategy, intellectual property, business communication and e-commerce among others.
The GET was marked by an opening ceremony on Monday 25 January that was attended by the designate of the Korean Ambassador to Zimbabwe, the Vice Chancellor of the Harare Institute of Technology- Eng. Q.C. Kanhukamwe, and the delegation from Handong Global University led by Professor George Kim.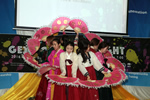 Wednesday 27 January saw the hosting of Culture Night; - which witnessed a display of both Zimbabwean and Korean culture; with both HIT and Korean students participating in the event. Zimbabwean mbira maestro and Kora Award nominee, Hope Rusike provided a repertoire of various cultural dances and narrations which proved both educative and entertaining to the audience.
Following the closing ceremony of GET on Saturday 30 January and the award of certificates, the Senior Executive Entrepreneurship Training was held on Monday 1 February. The Minister of Higher and Tertiary Education, Science and Technology Development, Honourable Professor Jonathan Moyo who was represented by the Deputy Minister, Honourable Dr. Godfrey Gandawa, officially opened the event. Regional Director for UNESCO,- Professor Hubert Gijzen also attended the event. Hosted simultaneously was the Junior Entrepreneurship Training programme, targeting high school students.