News
HIT Hosts Inaugural Vice Chancellor's Golf Tourney
The inaugural Vice Chancellor's Innovation and Scholarship Fund Golf Tournament was successfully held at the Borrowdale Brooke Golf and Country Club in Harare on 29 May.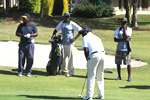 Participants were drawn from the Institute's stakeholders, Board and senior management. The tournament format was the Four Ball-Better Ball Alliance.
The AMG Global Chartered Accountants team comprising C. Kazembe, P. Makarudze, A. Mubaiwa and S. Chiminya emerged the overall winners with 95 points, while the second team made up of C. Nyabeze, A. Amos, J. Dzimwasha and F. Chimhini scored 91 points.
Minor prizes went to A. Chatora for nearest the pinhole shot at hole number 2, J.Dzimwasha for the nearest pinhole shot at hole number 11, P. Nyabadza for the longest drive shot at hole number 10, T. Muringani and S. Chiminya for the longest drive shot at hole number 10 and 12 respectively.
In his remarks, HIT Vice Chancellor, Eng. Q.C Kanhukamwe said the tournament was held as a fundraising effort and a platform to interact with stakeholders.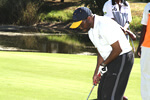 He expressed his appreciation to stakeholders for promoting HIT; adding that the Institute was currently commemorating the 10th Anniversary of its founding. He added that the commemorations provided HIT with an opportune moment to evaluate progress in its quest to become the centre of excellence in innovation and technopreneurship.

Funds generated through the Golf Tournament were to fund intelligent but financially challenged students, Capstone Design Projects with the potential for commercialisation as well as procuring equipment for workshops and laboratories.
Speaking at the same occasion, the Chairperson of the Institute Board Dr. Gibson Mandishona said the Innovation and Scholarship Fund is important as it seeks to generate the much needed resources to realise the Institute's mandate as well as to position HIT as the leading institution spearheading Zimbabwe's technological revolution.
The golf tournament is set to become an annual event.