News
HIT hosts Technopreneurship, Leadership and Corporate Governance Seminar
A Leadership and Corporate Governance Seminar was recently held by the Technopreneurship Development Centre in collaboration with the HIT BOOST ENACTUS Team in preparation for the Ethics and Transparency competition for all national universities to be held before the end of this year.
In his opening remarks, the chairman of the Technopreneurship Development Centre, Mr Mudamburi emphasized the importance of leadership and corporate governance in business management systems and practices stating that leadership cannot be taught in isolation. "Leadership and corporate governance are complimentary items. If a company does not adhere to good corporate governance practices, there are no two ways about it. Capital will flow elsewhere", he said
Mr Mudamburi attributed the collapse of most companies in Zimbabwe to poor corporate governance practices. "Corporate governance applies primarily in the running of big companies as well as small companies", he said.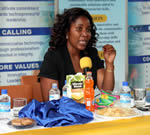 Ms Tsitsi Mutasa from the Zimbabwe leadership Forum was invited to address the students and she delivered a presentation on the role of corporate governance and leadership in building sustainable business enterprises. "Corporate governance involves the need to put up systems and processes to ensure that businesses are run well", she said.

She defined corporate governance as the mechanism through which boards and directors of companies are able to direct, monitor and supervise the conduct and operations of a business or any organization's management. "Corporate governance ensures that the organisation has appropriate levels of authority, accountability, leadership, stewardship and control", she said.
Ms Mutasa also added that there is need to have sound leadership that has integrity, accountability, responsibility, and transparency in order to attain good corporate governance in any organisation.
She encouraged students to be guided by good corporate governance practices in their endeavors to create and design the new world.
Corporate governance is becoming more complicated, sophisticated and is providing both greater opportunities and expectations for businesses. There are two types of drivers of corporate governance reform. One set of drivers is associated with failures and collapses. A more proactive set of drivers has much to do with companies' and countries' search for investment, the need to improve competitiveness, and gaining access to regional and international markets. Both have been responsible for increased attention paid to corporate governance over the past decade

To understand how corporate governance is evolving and changing, there are a few important ideas that are critical for businesses.

Companies must not only implement general corporate governance practice but must focus on best practices in good corporate governance. A key element of good corporate governance is good risk management. Another key element of good corporate governance is managing a company's reputation and how it is perceived in the global and local community.
The BOOST Fellowship was founded in 2000 through the support of people from Zimbabwe, the UK and the USA after observing that while most schools and universities across the world generally provide a wide-ranging academic education, many students find themselves inadequately prepared for the opportunities and the challenges of the world beyond the classroom.
BOOST Fellowship, a non-profit making organisation, will hold an ethics and transparency competition for university students, in partnership with Delta Corporation before the end of the year running under the theme "Ethics and Corporate Governance. The initiative is aimed at promoting ethical behavior in individuals and organisations