News
HIT Joins ZIE Final Year Engineering Students Competition
Two engineering projects by final year students from the Department of Chemical Processes and Systems Engineering have made it into the Zimbabwe Institute of Engineers National Final Year Engineering Students Awards to be held in early September 2014.
The Zimbabwe Institute of Engineers Final Year Engineering Students Pre-National Competition was held at the Harare Institute of Technology Campus on the 22nd of May 2014 and HIT final year engineering students presented six projects.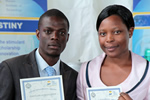 The two winning projects from the Department of Chemical Processes and Systems Engineering were the Design of a 1500 tonnes/ Annum Plant for Producing Diesel from Waste (Polyethylene) Plastics presented by Tafadzwa Gijima, and the other one was on the Design of a Plant for Refining 1 TPD using Lubricating Oil by Tatenda Nengiwa.
Other engineering projects presented by HIT students were as follows; Electronic Vehicle Identification System and the Automated Rank Marshalling System from the Electronics Engineering Department, the Development of a Climate Control System for Mushroom Greenhouses: Special focus on white button variety and the Design of a Robotic Bottle Packing Machine, from the Industrial and Manufacturing Engineering Department. All presenters were awarded with a certification of participation.

A panel of six engineers recommended by the Zimbabwe Institute of Engineers formed the adjudication panel.
The Final National Competition is scheduled for early September 2014 and the winning projects from HIT engineering students are going to compete with other winning students projects from other local universities.
In the meantime, before the final awards the students with the selected projects shall be working to improve and perfect the projects and prototypes and working on the recommendations from the adjudicators, as well as engaging engineering professionals in the industry to assist in improving the projects.
Various engineers, HIT staff and students, attended the ZIE-HIT Final Year Engineering Awards ceremony, and Mr Manhambare the Chief executive officer for Beta Bricks was the Guest of Honour.