News
HIT Scholar Launched
The Harare Institute of Technology Institutional Repository was officially launched on Friday 27 March on campus.
Speaking at the launch, the HIT Librarian, Mr Jasper Lee Maenzanise highlighted that the Institutional Repository was an integral aspect of the research processes at HIT and would aid in the advancement and creation of new knowledge, aligned to the institutional mandate. He added that the institutional repository would promote research and scholarly output, while disseminating research as widely as possible.
The event was attended by academic and senior administrative staff of the Institute.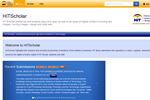 Two guest speakers also attended the event, and provided useful insights and experiences on institutional repositories.
Professor Mashingaidze, Director of the Centre for Invasive Species Research and Management of the Chinhoyi University of Technology outlined the benefits and limitations of institutional repositories, contending that repositories were useful for any university interested in academic excellence.
Mr E. Madziwo, Acting Manager for the Library and Information Services of the Zimbabwe Open University, also gave his reflections on the benefits of institutional repositories from a client and provider perspective.
Vice Chancellor, Engineer Quinton Kanhukamwe in his message congratulated the HIT Library on this achievement, which comes at an opportune moment as the Institution is commemorating its 10th Anniversary. The launch was a remarkable achievement and the repository had gone over the 100th mark and was set to continue to grow.
The Vice Chancellor added that as enunciated in the HIT Act, the institution was created to design, develop, incubate, commercialise and transfer technology for the nation's rapid industrialization. In line with this mandate, there was need therefore for a concomitant generation of scholarly output from the specific scientific, engineering and technology innovations.
Engineer Kanhukamwe also said that of the ten institutional strategic objectives, one of the objectives is centred around the consolidation of institutional research that focuses on fostering of inter disciplinary centres. "Given the HIT policy direction and thrust, it becomes clear that the Institute needs to create, develop and implement an institutional repository that captures and archives the research and development outputs at one central point as part of the Institute's technological and innovation memory," said Engineer Kanhukamwe.
The Library, together with the ICTS developed the institutional repository, the HIT Scholar.
The Institutional Repository is one of the Open Access Scholarly communication vehicles used to enhance the wide dissemination, access and use of scholarly and scientific research works. The Repository preserves for posterity; the intellectual output that is generated at HIT and provides for its wide dissemination and online access and use by as many actual and potential users as possible.
The Vice Chancellor also said the Institutional Repository at HIT had a unique posture, given the HIT mandate and the churning out of scholarly output for the new and innovative technologies. Engineering designs.  He added that the repository would grow the researchers' profile and resultantly contribute to the growth of the HIT brand.