News
HIT Student Crowned Zimbabwe SANBIO Student Ambassador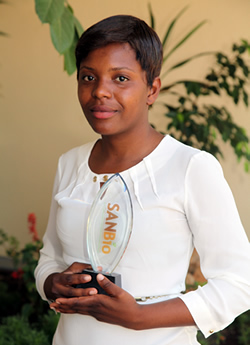 Joyce Fati Masvaya, a third year student at the Harare Institute of Technology, studying for a Bachelor of Technology Honours Degree in Biotechnology has been crowned the SANBio Student Ambassador for Zimbabwe, at a colourful ceremony held at the HIT Campus on Thursday 21 April.
The event was facilitated by the National Bio-technology Authority of Zimbabwe.
SANBio Student Ambassadors are expected to promote SANBio and biosciences in their respective countries and the region, arranging events, activities, competitions and workshops for students to promote biosciences. Student Ambassadors are also expected to produce content (articles, photos) for SANBio and actively contribute to SANBio social media platforms. Relaying information on current developments in the biosciences and related policies from member countries to the SANBio Secretariat, as well as engaging and collaborating with SANBio will also form part of their portfolio.
During her tenure as the SANBio Student Ambassador for Zimbabwe, Masvaya, who is currently undertaking an internship at the National Biotechnology Authority of Zimbabwe (NBAZ), will be working with a team comprising institutional-level student ambassadors that include Ms Melissa Chimuchembere from the University of Zimbabwe, Ms Nomsa Kitikiti, Mr Kumbirai Luka and Mr Bongani Ndlovu, all from the National University of Science and Technology (NUST).
In his congratulatory speech, the Guest of Honour, Permanent Secretary in the Ministry of Higher and Tertiary Education, Science and Technology Development, Dr Machivenyika Mapuranga, represented by the Principal Director in the Ministry, Air Commodore Ivan Gibson Dumba pledged the ministry's support for projects on biological sciences. "I want to congratulate Joyce for doing us proud. We are looking forward to hearing from you on areas of further support that you may require from the Ministry. We really look forward to other youngsters joining the ranks of ambassadors of biological sciences initiatives," he said.
"Biotechnology is a critical and life changing field," said Masvaya.  It is not just about being in the laboratory and learning theories. It is a solution-seeking field related to real challenges in all spheres of life such as health, hunger, food security, energy crises, and environmental issues to name just a few."  Masvaya dreams of a career as a scientist working towards improving livelihoods for the communities in Africa, facilitating economic growth through biosciences: "I hope to become an influential bioscientist, able to facilitate change in my country and in the region at large.
The ceremony was officiated by Dr J. Mufandaedza, the Registrar and Chief Executive Officer of the National Biotechnology Authority of Zimbabwe and attended by the HIT Vice Chancellor Eng. Q.C Kanhukamwe, the Registrar Mrs M. Samupindi, the Institute Librarian. Mr J.E Maenzanise, Principal of the Bulawayo Polytechnic Mr G. Mabasa, allied stakeholders from SIRDC, research institutions, the students and staff of HIT, University of Zimbabwe and the  National University of Science and Technology.
Southern African Network of Biosciences, SANBio, is an African Union-New Partnership for Africa's Development (AU/NEPAD) collaborative research, development and innovation platform aimed at addressing Southern Africa's challenges in health and nutrition. Membership within the SANBio network provides opportunities for research and development through collaborative networking. It also aligns stakeholders to streams of funding opportunities through various grant opportunities.