News
HIT Students Emerge Champions at Inaugural World Bank Water & Sanitation Hackathon
Harare Institute of Technology students emerged champions at the inaugural World Bank Water and Sanitation Services Hackathon after coming up with the best viable business solution in the form of a user-friendly application that can be used by residents to interface with City Councils for solving water and sanitation problems.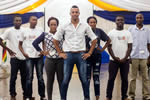 Code-named Team E-Council, the group was comprised of six HIT students; Edmore Sibanda of the Information Technology Department; Marshall Takudzwa Chabanga, Tamuka Caswell Chikanyairo, Fortune Chidzikwe of the Software Engineering Department; Mazvita Chigariro and Shyline Kamponje from the Electronic Commerce Department.
The team also developed a website for City Councils where customers can report faults that will be classified by Dashboard hits. The application system can also collect demographic data that can be supplied to other NGO's when needed.
Their prize included Free ADSL Fiber installations to each member's residential home with three months subscriptions.
Margret Chipunza and Alan Du Randt who led the panel of judges said the adjudication of the Hackathon was based on creativity, thinking outside the box, originality & versatility, an advanced approach to solving problems, and producing a socially, environmentally sound and sustainable business solution.
The second prize was awarded to Team DARA, who developed a mobile application support system that can be used to provide direct user interface between residents and council authorities, with Team ZIMWASA walking away with the third prize. Their business solution included an approach to empowering women to take charge of water and sanitation issues.
The event also included the first-of-its kind Dragon's Den format where all finalists present their product or prototype to a group of judges comprising experienced Venture Capitalists. Each finalist had a maximum of 10 minutes to present their product/prototype followed by 5 minutes of questions from the Dragons.
The 48 Marathon began on Friday 26 February to Saturday, 27, when the groups presented their business solutions to a panel of judges comprising Alan Du Randt, the Managing Director of Vita Nova, Margret Chipunza, the Chief Financial Officer of African Century Limited, Geoff Goss the founder of Matamba Anonaka, Medicine Mavhondo the Managing Director of Brainworks Capital, and Nyaradzo Nyimo Mudzamiri, a Consultant with OK Zimbabwe.
The event brought together various stakeholders, including the government, academia & software developers, private sector, financiers, members of the public, civil society, and the media to develop technical solutions that could improve water and sanitation services for Zimbabwean consumers.
As part of its curriculum, HIT promotes the practical application of knowledge by its students through various projects and initiatives. HIT students have, through the years formed formidable innovation hubs which proffers solutions for everyday challenges that communities face. These hubs have also been important in promoting a collaborative network across the disciplines, and have been a source of inspiration and motivation for the students.