News
HIT lures ICTS Ministry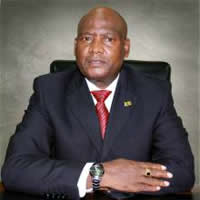 The Ministry of Information Communication Technology, Postal and Courier Services has endorsed the HIT brand and has requested for engagement with the Harare Institute of Technology in the promotion of ICT research projects.
In a statement, Permanent Secretary in the Ministry, Eng. Sam Kundishora, said the request is in view of promoting ICT research projects which hold the potential for socio-economic development; within the context of the national economic blueprint, ZIMASSET, and the 10-Point Plan for Economic Growth.
The Ministry has pledged to fund such projects for further development,- for the benefit of developers, researchers and the economy at large.
Speaking on this new development, HIT Vice Chancellor, Eng. Q.C. Kanhukamwe said the proposal is in sync with the HIT mandate which is to develop, incubate, transfer and commercialise technology for Zimbabwe's rapid industrialisation.
"Our students have distinguished themselves in terms of their conceptual strength and their ability to create products which are relevant and meaningful to society. Through our rigourous training which is proficiency-scheduled and competence-based; our students have produced prototypes which exceed our expectations. This request from the Ministry, is yet again another affirmation of our brand and the work that we do in producing graduates who will lead Zimbabwe's technological revolution," he said.
Last year, HIT students stole the limelight at the E-Tech Africa Expo, convened by the Ministry of ICTS. HIT students showcased innovative projects which spoke of ingenuity.
Speaking at the Expo, Minister of Information Communication Technology, Postal and Courier Services, Honourable Supa Mandiwanzira said HIT continues to inspire the Zimbabwean technology industry through its mentoring of young technopreneurs; adding that the Institute has fast become Zimbabwe's technology hub producing the best technology engineers across various disciplines. "We appreciate the good work and devotion shown by the Institute in producing students who are developing business solutions that suit the local markets. We want to go into universities like HIT, where young students are demonstrating products which can go onto the market today, and support them to develop more of these technologies and applications that will help our economy and ICT's industry to grow", he said.
The gesture by the ICTS Ministry yet again affirms the critical role of the HIT in the modernisation and industrialisation drive.
In 2015, HIT, the United Nations Development Programme, (UNDP) and Sandown Corporation Limited jointly launched their first Business incubation Programme. The programme was housed at HIT and through a three months incubation process, sought to support the ten young techies to transform their technical prototypes into commercially and socially viable ventures.