News
Minister Sets Policy Direction, Commits to Supporting HIT Mandate
Minister of Higher and Tertiary Education, Science and Technology Development, Professor Amon Murwira has said HIT is an embodiment of STEM; pledging to support the work of the University in STEM programmes,- by fully supporting the establishment of a Technopark.
"We will support the innovation hubs, and the translation of knowledge into goods and services-but we want to see products," he quipped. "We will support infrastructural development programmes through the Build –Operate –Transfer model; as well as student funding for University fees," he added.
He said this on his inaugural visit to HIT. He also took the opportunity to pronounce government policy on higher education.
Permanent Secretary in the Ministry, Dr Desire Sibanda said the Minister's visit was to give HIT the broad national vision following the inauguration of His Excellency, President Emmerson Mnangagwa; an opportunity for the Minister to state his expectations and to acquaint himself with the work of the Institute; as well as to facilitate the exchange of ideas pertaining to the development of the nation.
In his address, Professor Murwira said the new Presidency had ushered in an era of happiness, equality, freedom, hard work and patriotism- the bedrock of Zimbabwe's fundamental values, fought for during the war of liberation. Professor Murwira added that the new dispensation provided a unique opportunity for Zimbabweans to recommit to these founding values; with the knowledge that we are ultimately responsible for our destiny.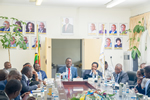 Professor Murwira emphasized the need for a programmatic approach to research, based on our culture and heritage; and innovation. "Our research culture should be based on what we have, ie minerals such as platinum, diamond, gold; agriculture. Don't be removed from your reality," he said, adding that relevant and contextual research was likely to attract funding; as opposed to research that was divorced from a nation's realities. "If research is not programmed, it is not supportable," he said. He also pointed to the importance of applied research and its central importance in feeding into national needs and aspirations.
He challenged HIT to develop a systematic industrialisation programme, which would lead to economic growth.
He gave examples of research outcomes which had revolutionised agricultural productivity and minerals exploration respectively; such as the mapping of Zimbabwe's five geographical regions in the early sixties; and the discovery and categorization of the Great Dyke.
Professor Murwira highlighted the nations' past achievements in the improvement of social services such as education, health, water and sanitation,; adding that the initiatives were community-owned, and executed in a systematic way. He said such gains had been invalidated by corrupt practices, but the new dispensation offered an opportunity for Zimbabweans to introspect and forge ahead with a renewed sense of purpose geared towards national development.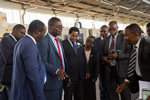 Pointing to the preeminent role of economics in national development, Professor Murwira said "We need to take seriously His Excellency's statement on the relationship between economics and politics for the country to flourish. Politics alone will not lead to the country's development. Populism which is not accompanied by hard work is useless. We must defend the economy of this country through knowledge. The purpose of this university is to fight ignorance and poverty. The nation needs to promote the values of productivity and hard work, and to ensure that our systems in the higher education sector work for the benefit of national development. We need that consciousness - of upholding our national values through our national institutions. And merit and reason must reign supreme in those institutions," he said.
The Minister conducted a tour of the Institute's engineering workshops and laboratories.