News
Lloyd Munhanga Scoops First Prize in NESAC Finals Preliminaries
Lloyd Munhanga, a final year Chemical and Process Systems Engineering student scooped the First Prize in the HIT National Engineering Students Awards Competitions Preliminaries held on 10 April 2019.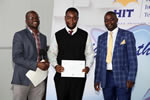 Lloyd won the first prize in the oral presentations after presenting his project entitled "Design of A Process to Produce 202.1 Tons/Yr of Freeze Dried Orange Pulp." This is a process to manufacture and package freeze dried orange pulp to be used as a juice additive. It is a practicable and economically viable manufacturing for Zimbabwean industries as the country does not produce any orange pulp but import from Brazil, France and South Africa. A number of experiments were carried out and analysed. Two variations of the pulp were produced, one with dextrin and one without. It was also found that 19.08 kg of oranges produced 760 g of pulp. Freeze drying was done over a period of 3 days and CaO was used to alter the pH of the pulp. Two pieces of equipment, namely the hydrocyclone and the pasteuriser were also designed according to their design heuristics and from this a process control and HAZOP analysis were done for each of these pieces of equipment. A site and layout were also selected for the plant according to design consideration and an Environmental Impact Assessment was conducted. The project's viability was estimated at 4.4 years and the return on the investment at 26.2 %, with a net present value for a period of one year pegged at USD$1 444 989.14. The business venture will start making a profit after two years of operation.
Commenting on his project, Lloyd Munhanga said he was motivated to solve the problem of importing orange pulp by Schweppes Private where he did his internship. "I found out that while the country was producing oranges and exporting them, there was no production for orange pulp and the country is importing it," he said.
Meanwhile, Christian Tapfumanei, another final year Chemical and Process Systems Engineering student scooped the First Prize in the poster presentations with her project on the "Design of a Plant to Produce 570l of Wattle Based Adhesive." Christian said that she was motivated to develop and formulate this bio adhesive because of the issue of trying to maintain a clean and safe environment. "Most conventional adhesives emit volatile organic compounds and air pollutants. This bio adhesive is also an import substitute because it uses tannin which is extracted from our local wattle trees. This will also help the Wattle company of Zimbabwe to find a market for their tannin product locally since there has been a market for the product," she said.
In his introductory remarks before the presentations, the Dean of the School of Engineering and Technology Eng. P. Muredzi said the School is perfecting engineering education in critical areas and is striving to teach the ability to conceptualize concrete solutions to abstract problems amongst its engineering students."We are engaging and connecting through team work, project, and goal-based learning, increasing awareness, exposure and empathy with other disciplines and perspectives.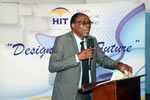 We are also reinvigorating hands-on learning, teaching our engineers design, development, prototype testing and eroding boundaries as well as blending between traditional engineering disciplines. We inform educate ethical humanist engineers and empowering them as technopreneurs," he said.
Dean Muredzi added that the presentations are top notch Engineering Capstone design projects selected from the School of Engineering and Technology's departments and deemed as the best output of the 2019 academic year. "I was particularly interested in the entries to these engineering competitions and it is clear that the students have been careful to follow the scientific research process closely; asking questions, designing experiments, testing their ideas, logging data and making conclusions on their findings. I am pleased these young people are here for without them it would be a fruitless operation and it is my pleasure now to wish you all a fruitful and enriching event that HIT will forever cherish," said Dean Muredzi.
Speaking after the presentations, the Guest of Honour Dr Eng. R. Dadirai from Veepak Private Limited said this competition is aimed at promoting innovation, research, design and development of novel ideas by students from Higher and Tertiary Education Institutions offering various Engineering
disciplines at undergraduate level. "The ultimate goal is to connect these young innovators to industry for commercialisation of their research output thereby creating a new industry, new jobs and new products thus changing lifestyles in Zimbabwe and beyond. This occasion is a great opportunity for engineering students to interact with the movers and shakers of industry who can potentially propel them to their destinies.
"This platform brings intellect of various disciplines of engineering to showcase their innovation which is crucial to Zimbabwe's modern industrial development and advancement of technology. The projects presented today were lucrative projects which need the support of industry towards their commercialisation," said Dr. Eng Dadirai.