News
Second Edition of the Technovation Day a Huge Success
Over 2000 High School Students & 20 organizations turned up for the HIT Technovation Day
The Harare Institute of Technology successfully held its second edition of the Technovation Day on Friday 22 July 2016 at the university's campus in Belvedere with over 3000 high school students from different parts of the country turning up for the event and over 20 organizations from industry and commerce also attending to witness the technological innovations and projects exhibited by the Institute's Schools and departments.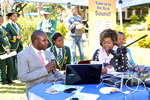 This year's Technovation Day was running under the theme – "Disruptive Thinking, Big Ideas", a challenge to Zimbabweans to find innovative solutions to daily problems and create an environment for rapid industrialisation.
The event was broadcast live on StarFM Radio station's Breakfast Programme called the Breeze, and was presented by Yvonne Mangunda on Campus.
In his welcoming remarks, the Vice Chancellor Eng. Quinton Kanhukamwe said the theme challenges the Institute to move out of its comfort zones, reflect on the daily routines to find better and innovative solutions to daily problems.
HIT staff and students from various departments showcased their projects which are all ready for commercialization. Research and development outputs including Intellectual Property were also showcased.
Academics, students, pupils, industry and commerce had an opportunity to interact, share ideas and motivate each other to proffer solutions to the various technological challenges facing our nations as well as creating an environment for rapid industrialization and wealth creation. "This technovation day provides an opportunity for networking and building partnerships with organisations within the same sector as well as providing a platform for identifying research problems,"said Mr Tinashe Mutema, HIT Communications and International Relations Director.
The Technovation Day also provided a platform for companies and organisations in the science, engineering and technology sector to promote innovation and technoprenuership amongst young people focusing on driving economic revival in the country.
The day also raised technological awareness among students, pupils as well as the industry and commerce. It also advanced and kept alive the advancement of the STEM initiative by showcasing the Careers of the Future to young high school students. The Technovation Day also provided an opportunity for networking and building partnerships with organizations and other technological players from various sectors.
"Specifically relating to high school pupils pursuing science subjects, the day is held to expose them to various innovations and developments within the science, engineering and technology sector with a view to motivate them to be innovators and wealth creators,"said Mr Mutema.
Some of the highlights of the Technovation Day exhibits include Clive Nyapokoto's Energy Globe award winning project called Vermicompost - Vermi-Aquaponics (VA) System. The project is designed to introduce a costless modern way of farming crops using aquatic waste without the need of fertilizers and fertile soils.
Tapiwanashe Matangira grabbed the crowd's attention with his D. Rover project where he integrated modern robotics to build a wireless controlled vehicle toy through a well developed mobile app. Tapiwanashe built the robotic toy from the waste card-box material powered by a cellphone battery.