News
Chief Secretary to the President & Cabinet visits HIT, unveils Entrepreneurship & Employment Promotion Programme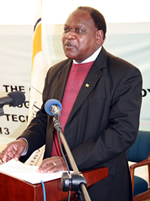 THE Chief Secretary to the President and Cabinet visited the Harare Institute of Technology and launched the Government's Graduate Entrepreneurial and Employment Promotion Programme (GEEPP) to provide jobs and create equal economic opportunities using local resources and institutions.
The Chief Secretary to the President and Cabinet Dr. Misheck Sibanda launched the programme at the Harare Institute of Technology. An inter-ministerial committee chaired by the Office of the President and Cabinet will spearhead the programme.
Speaking at the official launch, Dr Sibanda described the launch as a milestone in the development of a programme whose conception was a direct response to concerns raised by President Mugabe over unprecedented levels of unemployment among youths, especially graduates from local and external tertiary institutions.
GEEPP is more practical in implementation as it seeks to empower the people using local resources and institutions.
GEEPP would complement the Youth Development Fund and Community Share Ownership Trusts, as youths would access resources from the two programmes.
"This high-level initiative seeks to complement already existing youth development programmes by focusing attention on addressing graduate youth employment," said Dr. Misheck Sibanda.
Dr Sibanda said the programme would be implemented through equipping unemployed graduates with appropriate entrepreneurial skills and providing on-the-job skills capacity building through attachments to selected public institutions and private sector companies.
He said the beneficiaries would be provided with material and financial resources to develop entrepreneurial skills and start self-reliant projects within a revolving funding arrangement.
Dr. Sibanda added that the programme would result in institutionalising the accelerated absorption of graduates from National Youth Vocational Training Centres into tertiary institutions such as polytechnics and agriculture training colleges.
This would be done through facilitating entry at appropriate levels as a way of raising the graduates' levels of competency and facilitating the placement of unemployed graduates in foreign friendly countries under government-to-government arrangements.
"It is also hoped that in the long-term, institutions of higher learning would be challenged and motivated to review their curricula in order to produce readily employable graduates, that is, if they have not already started doing so," Dr Sibanda said.
"These institutions should also prioritise conducting regular tracer studies to establish where their graduates are and what they are engaged in."
The inter-ministerial committee comprises of the Ministries of Youth Development, Indigenisation and Empowerment; Agriculture, Mechanisation and Irrigation Development; Education, Sports, Art and Culture; Higher and Tertiary Education; Small and Medium Enterprises and Cooperative Development; Industry and Commerce; Mines and Mining Development and Women Affairs, Gender and Community Development.
Dr Sibanda said GEEPP would cover all the country's provinces and districts when it becomes fully fledged. He said specific strategies and potentially viable projects had been identified sector by sector and beneficiaries were being selected and would be funded principally by lead line ministries.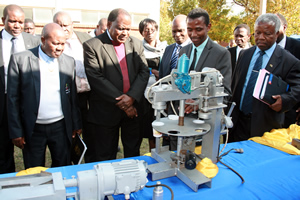 Dr Sibanda said some of the identified areas of graduate entrepreneurial and employment promotion programmes were agro-based projects such as potato production, horticulture, livestock and cattle fattening and projects in appropriate provinces and ecological regions.
Farm engineering support services such as servicing and maintenance of farm machinery and equipment by unemployed graduates and value added agricultural businesses such as processing potatoes, tomatoes, vegetables, fruits and mancimbi as well as production of specialised agricultural equipment such as solar dryers, hatcheries and peanut butter making machines would also be part of the programme.
The other areas are construction of low cost housing and making of appropriate furniture in the urban areas, and building of schools, health centres and community halls in the rural areas, business consultancy attachments and mentorship of unemployed graduates in various sectors of the economy by selected public and private sector enterprises.
There would be targeted assistance of unemployed youth graduates from the School of Mines and other related specialised mining institutions through mining and value-addition syndications and the opportunity to use communal milling equipment at service centres.
Dr. Sibanda said inspite of budgetary constraints that characterise the economy, the programme would go a long way in addressing the problem of unemployment among the youth graduates and inculcating a culture of self-reliance.
"This is the opportune time for youth graduates to be masters of their own destiny and take control of economic development to the high levels of growth that the Zimbabwean economy can attain," he said.
"With utmost commitment from all of us, there is no doubt that this programme will not only empower our unemployed youth graduates as the future leaders for this country, but will provide a viable vehicle for enhancing their employability, the creation of equal economic opportunities and contribute towards poverty eradication in a holistic and integrated manner."
Dr. Sibanda invited key sectoral stakeholders to support the programme.
Speaking at the official launching ceremony, the Permanent Secretary in the Ministry of Higher and Tertiary Education, Dr. Washington Mbizvo said that his team in the ministry believe that through this programme they will be able to extend an olive branch to thousands of families who will be able to make their lives more comfortable and more livable.
The Harare Institute Technology Acting Vice Chancellor, Engineer Quinton Kanhukamwe said they had embraced the programme and were committed to its success.

"We are very passionate and responsive to our ecosystem. HIT acknowledge fully the role that it should play in contribution to the development as well as the rapid industrialisation of this country. The Institute has committed some of its resources to make this beginning a success and we are confident of supplying more of these kits that are being manufactured here to all the pioneering graduates in all the provinces that have been chosen to embark on this programme", he said.
The Institute's Technology Centre is already producing the Solar Driers and Hatcheries, which are part of this programme.

The Chief Secretary to the President and Cabinet Dr. Misheck Sibanda and his delegation also toured the HIT Technology Centre where they were shown the facilities, plant and machinery as well as some of the products being manufactured on campus.