News
Security Department Convenes Student Management Workshop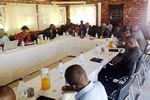 The Security Department organised a Student Management Workshop under the theme "Campus Activism in the 21st Century: Where is it Coming from and Where is it Going?" held at Mpumalanga Lodge in Gweru on 19 February 2019.
The workshop's objectives were to educate security personnel and Deans of Student at tertiary institutions on student's activism, to build synergies between Universities and state security in the maintenance of peace and order, to craft proactive strategies which identify sources of potential conflict between students and the university. It was also aimed at providing a platform for universities to reflect on the changing nature of student activism.
In his official opening address, the Guest of Honour, Vice Chancellor of Midlands State University, who was represented by the Registrar Mr. E. Mupfiga called on institutions of higher learning to stop viewing student activism as a threat, and strive to involve students' participation and representation in institutional governance issues. "Students must be represented in Departmental Boards, Faculty Boards, Senate, right up to the University Council as this arrangement helps to ensure that nothing directly affecting students is decided in their absence and resonates very well with the mantra "nothing for the students without students". Our practice should be to involve students and create open platforms for engagement. The more we see student activism entirely as a threat, the more we lose opportunities to leverage on their activism to improve service provision and governance in our institutions," he said.
The workshop was attended by over 20 delegates drawn from various universities and colleges in Zimbabwe including 5 presenters who were drawn from tertiary institutions and national security organs. Delegates were drawn from Africa University, Bindura University, Chinhoyi University, Great Zimbabwe, Harare Institute of Technology, Lupane State University, Manicaland State University, Midlands State University, National University of Science and Technology, University of Zimbabwe, Joshua M. Nkomo Polytechnic, Mutare Polytechnic, Office of the President and Cabinet, and the Zimbabwe Republic Police. The 5 presenters who presented on Management of Students Activism are Superintendent Chiukaka and Kavira (ZRP), Mr Nyere and Mr Gondo (Office of the President and Cabinet), and Mr Leo Kusema (HIT).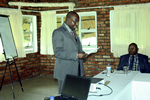 Mr E. Nyandoro, HIT's Acting Chief Security Officer said the workshop came up and adopted a number of resolutions that include the convening of annual meetings between state security and campus security officials, improving and enhancing communication between state agents and Campus security. "Delegates also called on the government to be more responsive to students' welfare issues and open avenues of communication with students' bodies. Students must be allowed to express themselves in terms of the laws of the country in a non-destructive manner and without infringing on other people's rights," he said.
Mr Nyandoro also added that the workshop also resolved to enhance the involvement of students in critical decision making boards of the University. Other resolutions include the training of Students' leaders in leadership skills, addressing students' welfare issues as and when they arise. Security staff were also encouraged to attend graduation ceremonies of other institutions to share knowledge and learn how others managed their events. The delegates also recommended the formation of a Universities Security Association and to improve and increase the relationship of Security Officers and Deans of students as well as the establishment of a national security task force of state security and campus security officials.

Chief Security Officers Forum
This workshop resulted in the formation of the Zimbabwe Association of University Security Administrators (ZAUSA) and the following were elected as executive committee members through an election presided by the Great Zimbabwe University Dean of Students Mrs. Mudavanhu;
Emmanuel Nyandoro: Chairman (HIT)

Patrick Chademana: Vice Chairman (MSU)

Abraham Miti: Secretary (CUT)

Kizito Mpala: Treasure (LSU)

Duncan Mupaso: Committee Member (AU)