News
Women in Engineering Open Day Conference 2015
Women engineers call for support to other women and young girls pursuing careers in engineering.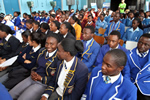 The second edition of the Women in Engineering Open Day Workshop was held at the Harare Institute of Technology on June 11, 2015 running under the theme: Inspiring and Building Women's Engineering Capacity For National Empowerment.
The Women in Engineering Open Day provides a platform where women in the engineering share experiences on the difficulties they face in their careers, their success stories as well as motivating and inspiring other women and young girls who would like to pursue careers in engineering. It is also a platform to contribute to the future where both male and female engineers are evaluated equally on their abilities and expertise and not on gender defined roles.
Speakers from various engineering backgrounds were invited to give their insights on how to make a mark in the engineering corporate world as a woman.
In his opening remarks, HIT Vice Chancellor Eng. Quinton Kanhukamwe called for support to women in engineering, researchers and students to out innovate, out educate and out build the rest of the world. "The development of world class talent in science, technology, engineering and mathematics (STEM) is critical to the global leadership. Increasing opportunities for women in engineering is an important step towards realizing greater economic success and equality for women across the board", he said.
"This Women in engineering open day is a dedication by HIT to increase the participation of women in engineering, girls and boys in science, technology, engineering and mathematics across the board. We should increase the engagement of girls with science subjects in formal and informal environments as well encouraging mentoring to support women through out their academic and professional experiences and supporting efforts to retain women in the engineering workforce", said Vice Chancellor Kanhukamwe.
Engineer G. Magombo, Chief Executive Officer of the Zimbabwe Energy Regulatory Authority also made a presentation on "Alternative Roles For Women Engineers in the Workplace: Moving Beyond Challenges, Career Advancement, Sustainability, Leadership and Development" in which she gave an insight into the world of a woman in engineering.
She called on women in leadership roles in the engineering sector to share their success stories so that they can encourage and inspire the girl child to celebrate their victories, achievements and reaffirm their positions as critical cogs in the engineering sector. "Gender stereotypes in the engineering sector are still prevalent discouraging the participation of girls and women in the sector therefore women in engineering are still few because women are not participating and venturing into the sector. However, there is a lot of effort at national, regional and international level through some protocols where women are being encouraged through gender development programmes promoting the girl child agenda", said Eng Magombo.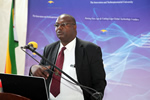 President of the Zimbabwe Institution of Engineers (ZIE), Engineer T. Kapumha also presented a paper on "The Role of Professional Engineering Institutions in Promoting Women in Engineering". He said that the professional engineering bodies like Zimbabwe Institution of Engineers (ZIE) and the Engineers Confederation of Zimbabwe (ECZ) can help women engineers to become an engineer who can manage to do all the multi disciplinary tasks required in the sector as one must understand these multidisciplinary approaches to engineering.
"As the ZIE we want to create credibility and integrity as well as enhancing the mentoring process for women engineers. We also facilitate industrial attachments and graduate and postgraduate trainings as well as sustainable scholarships for women engineers to enhance their skills and expose them to the latest technological developments in the engineering sector. I think the engineer of the future is a – she, and she must know how to make money," said Eng Kapumha.
Ms Rungano Karimanzira, the Director of projects and technology transfer in the Ministry of Higher and Tertiary Education, Science and Technology Development also talked about "The Role of the Mentor and Mentee in the Progressive Transformation of the Engineering Sector- A Women Centred Observation". She said that the girl child must be nurtured from a young stage in order to catch them young and instill a creative and inquisitive seed in the mind of a young girl.
"Our challenge as a nation is to improve the overall literacy rates from primary, secondary and knowledge generation levels of the girl child. Generally, the numbers of girls in STEM are significantly lower than the boys but the girl child performance is the same as the boy child. The girl child needs to be given a little lift and a little hand to move on", said Ms Karimanzira.
Other notable speakers at the Women in ENGINEERING Open day were Ms B. Nyakutsikwa from Hazen engineering whose presentation was on Women in engineering: are they remaining in the field? Engineer T. Kunaka, Technical Director of NATPACK (PVT) Ltd shared his views on Personal and Career Development for Female engineers. Eng. L. Masiyazi and Eng. W. Mutenhabundo of the HIT Department of Industrial and Manufacturing Engineering also presented on the advantages of installing returnship programmes for women engineers.
Students from various high schools, polytechnic, technical colleges and other universities attended this workshop as well as engineers in various fields from corporate and government organisations.