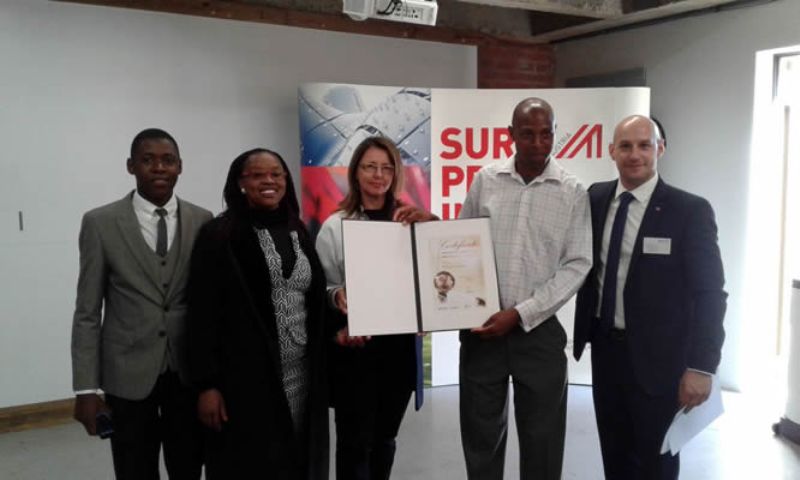 Clive Nyapokoto, a final year Software Engineering Student is this year's winner of the Energy Globe National Award after his Vermicompost – Vermi-Aquaponics (VA) System project was honoured by Advantage Austria the official Trade Promotion Organisation (TPO) which recognises success in green technologies and organisers of the Energy Globe Awards.
Clive Nyapokoto receiving his award from the Austrian Ambassador to south Africa Ambassador Brigitte Öppinger-WalchshoferClive was awarded the Energy Globe National Certificate Award at the prestigious 2016 Energy Globe Award Ceremony in Rosebank, South Africa on the 22nd of June 2016. Nine other winners from the African continent also received their National Awards among them Lesotho, Zambia, Tanzania, Morocco, Botswana, Namibia, South Africa and Gambia.
The Vermicompost – Vermi-Aquaponics (VA) System project is a students' run agro-based start up with its main focus being the improvement of organic agriculture.
The VA system is a smart integrated organic agricultural system which integrates Aquaponics, vermiculture, small livestock and ICT technologies in a controlled looping environment. It is a smart soilless farming system which can be modeled to suit any climatic region for food production and can be done as vertical indoor/ outdoor farming. Sensors are used to remotely monitor and control the system. Sensed data can be visualized on different web platforms.
The VA system uses worms as a waste management tool in order to convert kitchen and paper waste into rich organic fertilizer which can then be used for organic agriculture. The worms are used as nutrition for fish and chicken. Chicken droppings and small livestock waste is used to feed the fish supplementing the worms and to maintain PH levels in the fish tanks as well as bedding for the worms. Fish waste rich water is used to grow the plants in a soilless environment (Aquaponics). Fish waste rich water is used for Aquaponics which is a food production system that combines conventional aquaculture (raising aquatic animals such as snails, fish, crayfish or prawns in tanks) with hydroponics (cultivating plants in water) in a symbiotic environment.
The organic manure made by the worms (vermicompost) is used in no dig garden concepts and the liquid fertilizer used to supplement the nutrients in the grow beds for plant growth and to increase bacteria for the system.
The system needs only little space due to the closed loop system which was created where each element depends on each other. Nutritious food is provided for families and markets are created to sell the surplus coming from minimal resources. The soil fertility has increased since the implementation of the project and more organic crops are grown. 800 farmers are using the system and started to sell the worms to a local company which produces organic fertilizer. A functional model has been developed which is suitable for both outdoor and indoor farming
Clive developed a software application that monitors and maintains the units without having to go there, which reduces time and efforts. Vermicompost is four times more efficient than artificial fertilizer without the negative side effects of polluting water and the environment. It can be used in urban areas since it needs so little space. Two plots have been designated for the implementation of the project, in Harare and Wedza. Furthermore, one of the major hotel groups has adopted the system and composts all of their kitchen leftovers and office waste paper by worms.