News
HIT Board Chairman turns 70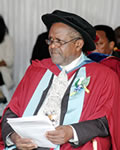 The Harare Institute of Technology Board Chairman, Dr Gibson Mandishona celebrated his 70th Birthday on Saturday 2nd of February 2013 at a private and colourful function held in Harare and attended by his family members, friends and relatives.
The HIT Acting Vice Chancellor, Eng. Q.C Kanhukamwe accompanied by his wife also attended and presented the following speech:
On behalf of HIT, I am greatly privileged and honoured to be part of this occasion to celebrate the 70th birthday of our venerated 1st Chairman of the Harare Institute of Technology Board, Dr Gibson Manyowa Mandishona.
To us at HIT, Dr Mandishona has lived a life of dauntless courage and gallant self-sacrifice. He is an enigma to us, a patriot and fountain of wisdom to the Harare Institute of Technology. As the first Board Chairman of HIT, Dr Mandishona has tactically spearheaded policies that have made HIT become truly an innovation and technopreneurial university. He has wasted no time in networking and linking the university to strategic technology partners as well as taking time to partner with staff on the ground in conducting research. Our Chairman is a moving core text of technology development in Zimbabwe. His experience and enthusiasm in renewable energy technologies inspire us all. He has lavishly given his time and commitment for HIT to grow and we shall forever cherish his contributions.

As a statistician, I was wondering whether he will tell us today the formula to defy the statistical mean of life expectancy of Zimbabwe to reach 70.
HIT has Integrity as one of its core values. Integrity at HIT means the virtue of honesty underpinned by unhu/ubuntu and equity. Dr Mandishona is a moving example of this value

On my own behalf and wife, The Harare Institute of Technology Board, management and staff and students, may I take this opportunity to congratulate Dr Mandishona on his 70th Birthday and wish him many more years of good health filled with success. Let me also acknowledge the wonderful work that your family has done in putting such a wonderful event together! Thank you! You are truly blessed, let God the Almighty, continue to abundantly bless you!
Aiwa waMandishona, Zvaitwa Nzou, Samanyanga!
Chikomo chinopfungaira nokupawo zvimwe zvikomo mhute.
Onaiwo nhasi nesuwo topfungaira!
Congratulations, Makorokoto, Amhlophe!
Ndatenda!