News
HIT Commissions New Telecoms System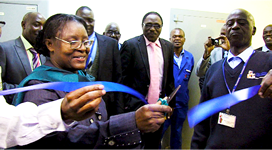 In line with its strategic plan – Vision 2015, the Harare Institute of Technology has upgraded its telecommunications hardware and network system by installing a state of the art TDE600 IP-BX telephone system.
The new system is able to service up to 1200 line extensions, and it is one of the latest communications systems in the world. The IP-BX telephone system is less expensive to operate and does not need electricity as it uses some rechargeable batteries.
Speaking at the commissioning and handover ceremony, Mrs Chahuruva, Director of the Institute's Information and Communication Technology Services ICTs Department expressed her hope that the new telecoms system will solve the challenges that the Institute have been experiencing with the old system. "Currently, we have started using the new system and as we are appreciating it, we hope it shall suit our institute's needs as well as benefiting us in cutting down our telecommunications costs", said Mrs Chahuruva.
Mr Mohammed Surtee, who was representing General Leasing, the company that installed the new telecoms system pledged the company's continued support in ensuring the telecoms system remains functional and up to date. "We trust that the system will go a long way in improving your telecommunications system", he added.