News
Award for Excellence for the Year 2013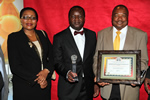 In recognition of its growing reputation as a hands-on and practical oriented degree awarding institution, the Harare Institute of Technology has received yet another Award for Excellence for the year 2013 at a Megafest National Business Awards ceremony held at Rainbow Towers in Harare. The award is an acknowledgement of the commendable research work being done by the University that will benefit the Zimbabwean industry and society.
The award was presented to the Institute's Acting Vice Chancellor, Engineer Q.C. Kanhukamwe, who was accompanied by his senior management team.
In their citation during the awards ceremony, Megafest Holdings noted that Harare Institute of Technology has been doing a number of researches that will transform the Zimbabwean industry and as such they deserve this recognition. Apart from that, the Institute's Technology Centre, a unit set to promote the development of manufacturing activities across academic departments in an inter and multidisciplinary approach, provides a platform for students to turn their capstone design projects into prototypes collaborating with players in the Mining, Agriculture, Industry and Commercial sectors in solving some of their problems.
Commenting on the award, Eng. Kanhukamwe said he was glad that the community continues noticing and appreciating the important national role HIT is playing: "I am very glad that though we are a very young university we have managed to show and dared to be different. With limited resources we are chatting a path that will have a significant national impact. This award is a recognition of the team spirit and efforts of all of us," he said
Megafest is a Bulawayo based company with a Business Council arm that confers awards to excelling corporate bodies and individuals from different sectors of the economy. The council calls for nominations, which are done through its network events biannually.  An adjudication panel (apparently of adjudicators that don't know each other) then goes through the submissions to select the winner.
An extensive background research on the company and individuals is then conducted. The final and most important step in its selection process is to research and discern an owner/operator's reputation in the community, based on a factual track record.
Some of the organizations that were also awarded at the ceremony include, CBZ Bank Limited, MBCA Bank, Standard Chartered Bank, NetOne, Zimra, Liquid Telcoms, Avenues Clinic, Zimpapers, Fawcett Security, Mimosa and the Great Zimbabwe University.