News
Board Chairman Challenges HIT Leadership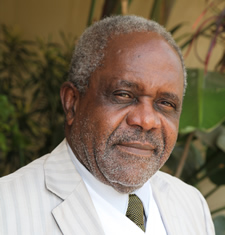 Harare Institute of Technology Board Chairman Dr Gibson Mandishona has challenged HIT senior management to rise to the occasion and steer the HIT ship towards long term sustainability and growth.
In his address to the Institute's 20th Board Meeting held on 16 April, Dr Mandishona called on the Institute to prove its competence as a technology oriented institution, in line with its mandate: the development, incubation, transfer and commercialisation of technology, as well as producing human capital for rapid industrialisation.  
Dr Mandishona acknowledged the tremendous strides by HIT in the execution of its mandate, adding that the Institute should now further consolidate its position by taking the lead in areas of commercialisation. "The Board notes and commends Management for past achievements. Technologies and innovations that the Institute produces should be commercialised, to provide the much needed income streams", he said.
Dr Mandishona also highlighted that the Institute was operating under a challenging economic climate. "In light of these challenges, the Institute is encouraged and expected to be innovative and to come up with strategies for resource mobilisation to finance operations and expansion. All departments should, without exception indicate the extent to which they have mobilised resources for the Institute", he said.
On governance issues, the Institute Board Chairman reiterated the need for every member of the Board to ensure that procedures and systems on the governance of information, knowledge and experience are established to act as checks and balances on all activities of the Institute, in line with the National Code on Corporate Governance which was launched on 9 April 2015. 
"Let us all put our shoulders to the wheel, commit our time and effort to the Institute in our varying capacities so that it continues to shine as a beacon of both enterprise and integrity", said Dr Mandishona.