News
Board, Management Review HIT Strategy
The Harare Institute of Technology Senior Management team convened a meeting to apprise the Board of progress in the Implementation of the Strategic Plan Vision 2020.
The meeting was held on campus and was attended by the Institute Board and the Senior Management team.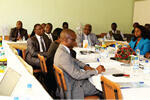 As part of the evaluation process, all heads of department presented their tactical plans – tools for achieving the strategy for evaluation by the Board.
The Institute Board Chairman, Dr Gibson Mandishona said the role of the Board at this review process was to "test and probe and Institute's strategy and to use collective professional experiences and skills in refining the strategy."
HIT Vice Chancellor, Engineer Quinton Kanhukamwe acknowledged the key commitments made  by the Institute at the launch of Vision 2015 – Designing the Future  such as building  HIT from its foundations, the generation of research and development outputs that are commercialisable and responsive to  industry and national needs and a commitment to the refinement of HIT's distinctive strength. These commitments will enable HIT to become a truly innovation and technopreneurial university of technology with global connections, reach and impact. 
The Vice Chancellor added that it now remained important for the Institute to adjust to the current macro- environment and fine tune processes so that they would be in tandem with these changes.
The Vice Chancellor added that it remained important for HIT to be at the cutting edge of innovation and development, as well as to complement government efforts in the development of the higher education sector.
The Vice Chancellor and members of the HIT Senior Management Team made presentations and extensive deliberations followed. HIT Registrar, Mrs Mary Samupindi provided a context for the deliberations and gave a historical overview of the HIT strategic processes since its inception and the strategic direction for HIT.