News
Clive Nyapokoto's Vermi-Aquaponics System Goes Commercial
Clive Nyapokoto's  Vermi-Acquaponics project which won the Energy Global Award in South Africa and also scooped the first prize at the Zimbabwe ICT Innovation Fund showcase organised by the Postal and Telecommunications Regulatory Authority of Zimbabwe (POTRAZ) is now at the  commercialisation stage.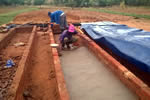 Clive and his Shift Organic Technologies team are already setting up and building structures to implement the project at a much larger scale in his Svosve communal lands in Wedza. The Vermi-Acquaponics system is a tried and tested agricultural innovation that has yielded tangible results after successfully growing and yielding cucumbers, tomatoes, fish, honeybees and other diversified plants.

The VA System is a combination of Aquatic technologies and use of organic waste integrated together through cutting edge technology, which enables a continuous recycling of nutrients to support smart farming.
This is a smart integrated organic farming system. It combines small livestock, vermiculture, aquaponics (Farming of vegetables using fish waste) and ICT. It utilises animal waste in the growing of vegetables in a soilless farming system using artificial plant beds which can either be containers, trenches with quarry or raft, PVC pipes or vermin-sheet mulch beds.
The system is already yielding cucumbers without using the traditional fertilizers and fertile soils.
The whole concept is based on increasing efficiency and productivity in organic farming by taking advantage of old and new technologies. Vermiculture (Worm Farming) is used as a waste management technique of all household kitchen and office biodegradable waste that include paper, sadza, and vegetable cutoffs among others. The worms are used as chicken and fish feed dried or fresh.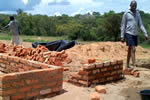 ICTs are used to remotely monitor, control and manage various variable parameters within the system which include temperature, ph, feeding rates, moisture, flow rates, water level, leaks, plant and animal health, oxygen, light and humidity. The information is sent in real time over the Internet to any social media platform or a customised application that the user can also sent commands to the system i.e. feed fish, start/stop water pumps.
"The Shift Organic Technologies team have made some strides in implementing the VA System project at a commercial level with higher expectations of yielding bigger harvests in fish farming and horticulture", said Clive.
The VA System can be remotely monitored no matter where you are as long as you have internet you can manage your garden and very little is put to waste as poultry waste is used as feed for fish and worms while the worms are also used as fish feed as well as chicken feed. They are also dried for later use. It also has multiple outputs as the organic fertilisers, pest repellants, fish, crop produce, poultry increases revenue base. The system is also resourceful in terms of water as only about 10% of water is used. It also uses less energy and space because it uses gravity and less electrical energy providing four times as much on an equivalent space. The VA system can be done on any environment considered not suitable for farming even indoor or roof top farming. There is no digging and no weeding. It also reduces environmental pollution as paper is composted and many other biodegradable waste.
Other initiatives by Shift Organic Technologies include smart beehive remote monitoring system for honey production in the beehive including security alerts.
Technomag