News
Current Trends and the Future of Biotechnology in Zimbabwe
Local Biotechnology experts have called for more awareness, the promotion of biotechnology research and a review of the government policy on genetically modified organisms in order to provide solutions in food security and sustainable energy provision.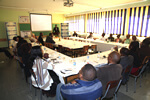 Several experts from the local biotechnology fraternity and industry said this at a seminar organized by the Harare Institute of Technology's Department of Biotechnology held on 10 June, 2015 under the theme "Current trends and the future of Biotechnology in Zimbabwe", as part of the Institute's 10th Anniversary Celebrations.
In his opening remarks, Dean in the School of Industrial Sciences and Technology Mr. Perkins Muredzi called for partnerships between the academia, industry and the regulatory authorities to further biotechnology research in Zimbabwe saying the purpose of the workshop was to get together with biotechnology researchers, industry, policymakers and regulatory authorities to share and discuss the current trends and future prospects of biotechnology in Zimbabwe.
"Our desire is to use this forum to establish working relationships that will further our research in the fields of biotechnology. There is need for linkages for sharing knowledge and for capacity building to do research in biotechnology. I believe working together can advance the biotechnology agenda in Zimbabwe and structure our economy", said Dean Muredzi.
Charity Magwenzi, the Research and development Manager at Dairiboard Zimbabwe Limited pointed out that food technology has a very important role to play in the manufacture of high quality and safe food although consumers have their misconceptions and wrong perceptions of food biotechnology.
She was presenting a paper on the " Current trends and the future of food biotechnology in Zimbabwe".
Magwenzi said that food biotechnology can be useful to address challenges of food security by providing affordable foods that are ecologically sound, have a long shelf life, convenient, providing new tastes and textures, healthier options, and produced in larger volumes to feed our growing population all year round.
" The future of food biotechnology is centred on the customer, genetically modified foods, nanotechnology and functional foods and we are looking for local innovative, competitive and commerciliasable ideas from the academia that can solve some of the problems that we are facing in our food processing industry", said Magwenzi.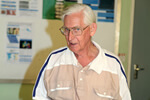 Dr Ian Robertson, a crop scientist and biotechnologist from the University of Zimbabwe and AgriBiotech Holdings also presented on the current trends and future of agricultural biotechnology in Zimbabwe. He alluded that the world's biggest concerns are currently poverty, obesity and energy scarcity and biotechnology as a science can adequately address these challenges by offering useful solutions.
Dr Robertson called for the cultivation of virus eliminated potatoes which if grown on a hectare of land can produce 60 000 tonnes of potatoes, in order to avert the problem of food security in Zimbabwe. "If half the country can grow this virus eliminated potatoes, which can be grown all year round, that means we have averted hunger in our country", he said.
Southern Africa is facing an energy crisis – crude oil is expensive to transport to our landlocked countries, therefore Dr Robertson is calling for the cultivation of virus eliminated cassava, which if produced at 60 000 tonnes per hectare producing 120 million litres of biofuel (ethanol) by a Biofuel plant. He also said this can also benefit smallholder farmers who can also grow the cassava plant feeding into the Biofuel plant.
 Dr Robertson also called for the National Biotechnology Authority of Zimbabwe (NBAZ) where he is also a board member to review its regulatory policy on genetically modified organism as there are a few things that are detrimental because of the consumption of genetically modified foods but the benefits are largely on the positive side. "We must grow GMO maize, soya, and cotton because we cant compete with other countries like South Africa as our farmers inputs are too expensive and we need to feed the nation. We can put a gene in our maize to stop the stockborer worm and eliminate weeds and this can save the country million of dollars a year on maize imports. We have the brains and capacity to do other biotech research in collaboration with our local universities and other research institutions", said Dr Robertson.
Speaking on behalf of the National Biotechnology Authority of Zimbabwe Chief Executive Officer, Dr Mufandaedza, a representative from the NBAZ said that although our government policy prohibits the cultivation and importation of GMO crops, biotechnology research on GMOs is not ruled out as applications to carry out such researches can be made to the NBAZ. "Future policy plans are already on the table to review the National Biotechnology Policy of 2005 and to introduce labeling of genetically modified products to help consumers in making decisions," said the NBAZ.