News
Embassy of Netherlands – HIT Partnership on the cards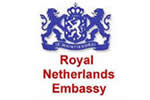 A partnership with the Embassy of the Kingdom of the Netherlands in Zimbabwe, Zambia and Malawi is in the offing, following a visit by the Deputy of Head of Mission, Maarten Rusch.
The partnership will largely be based on entrepreneurial development among the youth.
Theodore Klouvas, a Dutch expert on entrepreneurship, a young Ghanian entrepreneur and Tinotenda Pasi, a Policy Adviser in the Embassy were also part of the delegation.
The visit  comes against the backdrop and potential for the Embassy of the Netherlands in Zimbabwe to start an incubation programme with the Harare Institute of Technology.
"Zimbabwe has a very strong education system, the literacy rate is also very high and we came to HIT to share ideas on how we can promote entrepreneurship among the young people," said Rusch.
Klouvas, a entrepreneurship expert, who has so far initiated incubation projects in Dutch embassies in Greece, South Africa and Ghana added that he was keen to get exposure on the Zimbabwean experience of entrepreneurship and alternative ways of thinking. He was also cognizant of the fact that all attempts in the start of any new programme should be contextual and specifically targeted to a people's lived experiences and aspirations.
The visit by the Dutch Embassy officials is a welcome move as their proposal closely fits with the HIT mandate of technology development, incubation, transfer and commercialisation. Currently, HIT has initiated a successful incubation programme with the UNDP and SANDOWN where 10 student projects were adopted.
Other possible areas of partnership and collaboration which were discussed include exchange programmes for students and staff and collaborative research.
The meeting was attended by staff from the Technopreneurship Development Centre, School of Business and Management Science, Central Services and Communications and International Relations.