News
HIT Honoured at Business Leadership and Enterprise Competitiveness Summit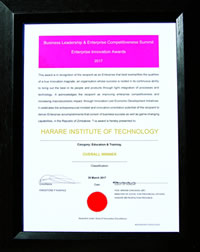 The Harare Institute of Technology was recently awarded the "EDUCATION AND TRAINING ENTERPRISE INNOVATION AWARD" at the Business Leadership and Enterprise Competitiveness Summit held in the capital on 30 March 2017.
The award is in recognition of HIT as an Enterprise that best exemplifies the qualities of a true innovation magnate, an organisation whose success is rooted in its continuous ability to bring out the best in its people and products through tight integration of processes and technology.
The Business Leadership and Enterprise Competitiveness Summit acknowledges the Harare Institute of Technology as improving enterprise competitiveness and increasing macro-economic impact, through innovation led economic development initiatives.
The award is a celebration of HIT's entrepreneurial mindset and innovation-oriented potential to deliver enterprise accomplishments that consist of business success as well as game-changing capabilities in Zimbabwe.
The Minister of State for the Harare Metropolitan Province, Cde Miriam Chikukwa was the guest of Honour.