News
Guest Lecture Focuses On Current Marketing Trends
The Technopreneurship Development Centre, held a public lecture under the theme "Current Marketing Trends From The Practical Perspective For Technopreneurs" on 20 February 2019
Mr Tafadzwa K. Mukoyi, a renowned motivational speaker, life coach, entrepreneur,
strategist and author delivered an inspirational lecture where he introduced the different aspects of technopreneurship and emphasized that experience, exclusivity expertise, exposure and energy are the ingredients in a recipe for business start-up.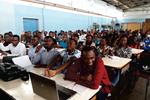 He encouraged students to start-up, stay-up and scale-up hi-tech businesses in Zimbabwe. Mr Mukoyi also advised that one can steal ideas but no one can steal execution or passion. He said that the reason why people do not start their new ventures in a country is due to unawareness and fear of failure, as they opt to go for jobs in private or government sectors so as to minimize the risk. Therefore, he emphasised the importance of the technopreneurship courses being offered to HIT students as they raise the basic awareness of entrepreneurial concepts as well as enabling students to identify and learn how to make a mind-set to take up entrepreneurship as a challenging career.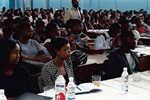 His presentation also covered the evolution of marketing and marketing philosophies His 7ps KOMBI Model which is inspired by experiences he had from using kombis when traveling also inspired the students who attended the public lecture. He also presented on the importance of marketing for technopreneurs and current trends in Zimbabwe. he concluded his presentation by showing some motivational videos to the students.
The lecture motivated the students to work hard and start new ventures through adequate forward planning and execution of their business plans.