News
Health Club Holds Students Health and Wellness Expo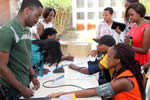 The Institute's Students' Health Club, under the auspices of the Students Affairs Division recently held a Health and Wellness Expo from 13 to 14 October under the theme:  "Delivering Health to the People, Bringing Life to Everyone Around Us".
The Club partnered CIMAS Medical Aid Society, Cancer Association of Zimbabwe, National Blood Transfusion Services (NBTS), University of Zimbabwe and HIT SAYWHAT Club. Various services were on offer at the expo, which include: breast cancer screening, blood donations, BP checks weight control (BMI calculations), blood glucose tests and healthy lifestyle counselling.
The Health and Wellness Expo is held to conscientise the HIT community on the importance of personal health and wellness as a preventive strategy against non-communicable diseases.
HIT Nursing Sister, Mrs J. Mashoko said the Expo was generally a success, and plans were in place for an even bigger event in 2017. 
"We also intend to intensify our Health and Wellness campaigns so that staff involvement and participation increases. Students also need to be motivated to continue participating and strategies are in place to achieve these objectives," she said.
The Health Club is a group of about 30 students on campus who work with the Health Centre in health information and education campaigns.