News
HIT Boost Team Scoops USD3 500 Investment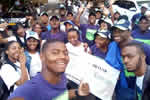 The HIT Boost Club won UDS$3 500 at the "Delta Make a Difference National Competitions and Showcase" held on Friday 9 November 2018 at the Rainbow Towers in Harare, after a thrilling display of technopreneurship and innovation brilliance.
The Delta Make a Difference National Competitions and Showcase are a platform to attract monetary investment for student-led business ideas premised on recycling Delta Corporation's waste into commercial value.
The HIT Boost Team, which was competing under the company name NanoAlum Private Ltd, presented a cutting edge and innovative project on recycling aluminium beverage and alcohol cans into nano-aluminum oxide for use in water treatment processes. The process for making the nano-particles involves collection of disposed aluminium cans, cleaning, crushing them, before reacting them with sulphuric acid. They are then crystallised and synthesised with aluminium oxide into the desired nano-particle product. This nano-particle product from the cans can also be used as reactive additives, in the manufacture of rotor blades for hydroelectric power plants, and material coating among others.
The project is the brainchild of Kudzaishe Erickson Mandizha, Takudzwanashe Adrian Juro, Tapiwanashe Sithole, Solomon Kudakwashe Maposa and Ruvarashe Milcah Zisengwe all second year students in the Chemical and Process Systems Engineering Department. The team garnered USD$ 2 500 in direct investment from the judges, and was awarded the Delta Corporation Special Prize for entrepreneurial excellence worth USD1 000 to earn a total of USD$3 500 in prize money. NanoAlum Private Ltd demonstrated not only the technical astuteness of the product but also the strong market potential of the business model.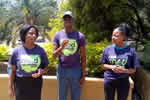 HIT Boost Team spokeperson, Tawonga Zvokuomba, a first year Chemical and Process Systems Engineering student expressed delight at the victory, stating that it was a great victory and a sign of more to come. The club President, Douglas Remhunga, described the experience as a huge learning curve, and that teamwork was key to success as well as the enthusiasm that is the steam that drives the engine. "Winning the prize was a great joy for the entire team, he said"
"We have indeed proved that HIT is the stimulant of scholarship in innovation. Our project is unique and our business presentation shows that we are from a technopreneurial university. We will go ahead and commercialise our project," said Mr J. Simuka, one of the club's Faculty Advisors.