News
HIT Celebrates 10th Anniversary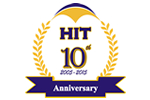 The Harare Institute of Technology will host its 10th Anniversary celebrations this year, (2015); commemorating the establishment of the Institute in 2005 by the Government of Zimbabwe through the HIT Act, Chapter [25:26].
The celebrations will be held under the theme: "HIT @10: Celebrating Innovation, Championing Technopreneurship."
An organising committee for the celebrations is already in place, chaired by the Dean in the School of Industrial Sciences and Technology, Mr Perkins Muredzi.
The celebrations will be held under various banners and celebratory activities which seek to recall and celebrate the history, heritage, traditions, mandate and future of the Harare Institute of Technology. 
Mr Muredzi revealed that the scope of the anniversary celebrations was diverse covering symposia, conferences, public lecture series, workshops, Olympiads or competitions and technology exhibitions.
He added that over the past 10 years, the Harare Institute of Technology has grown into one of the region's finest training grounds for future engineers and a wellspring of leading edge technology.
"The Institute has seen dramatic increases not only in its size and scope of degree offerings, but also in the quality and impact of its educational and research programmes. In just a decade, it has risen to become a national leader in experiential engineering education, technology development, technopreneurship, technical pedagogy and in research fields as diverse as financial engineering, pharmaceutical technology and information security." This, he said, has resulted in record levels of student applications, research funding and philanthropic support.
Muredzi highlighted that the Celebrations' emphasis on HIT as a Model of a world class Institute of Technology will showcase HIT's commitment to excellence, access, and unmatched dedication to higher education.
"Participation and enthusiasm from the entire community will ensure success," he concluded.
HIT Director of Communications and International Relations, Mr Tinashe Mutema revealed that the  commemorations serve as an opportune moment to once again tell the HIT story and reinforce the HIT brand to a multiplicity of stakeholders.