News
HIT Enters Into MOU with AVM Africa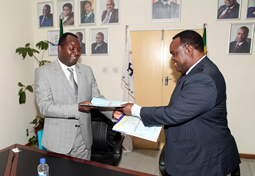 The Harare Institute of Technology has entered into a Memorandum of Understanding with AVM Africa (Pvt) Ltd.
The MoU was entered into on 1 October 2015 at the Harare Institute of Technology campus.
The scope of the MoU allows HIT to work with AVM Africa (Pvt) Ltd in the following areas:
Produce working drawings for various parts and components where necessary
Research and design leadership in the development of a new bus  body designs
Facilitate internship for HIT students and staff training programmes for AVM Africa trainees.
The MoU is for an unspecified period, with bi-annual reviews by both parties.
AVM Africa, Pvt Ltd is a company responsible for the manufacture of buses and trucks, including components and accessories for the AVM Brand.  It's interest in HIT is derived from the need for value addition on their bus product in order to come up with a new AVM brand of buses in line with market demands using the latest technology.
The Harare Institute of Technology was represented by the Vice Chancellor, Engineer Quinton Kanhukamwe, and the AVM (Pvt) Ltd was represented by Honourable Musanhi.