News
HIT Hosts Inaugural Design Thinking Workshop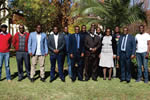 The inaugural workshop on 'Re-positioning ICTs Services in Zimbabwean Universities as a Strategic Function for Higher Education,' was held at the Harare Institute of Technology's Innovation and Design Thinking Laboratory from 14-15 June 2018. The Lab was built with support from the United Nations Development Fund, (UNDP).
ICT Directors from Zimbabwean Universities were part of the inaugural cohort to be trained in Design Thinking.
In his welcome remarks, Vice Chancellor of the Harare Institute of Technology, Engineer Quinton Kanhukamwe underscored the important role of ICTs in leading the transformation of Universities for both institutional and national development. "ICTs have become an indispensable tool in all sectors of economic and social life, and as Africa leap frogs to Industry 4.0, the role of ICTs in harnessing our collective thoughts, ideas and actions becomes even more relevant. As ICT Directors, you are uniquely positioned to transform the role of the Universities through adoption of top ICT services," he said. 
"ICT Directors within local universities are the first beneficiaries of this IDTL workshop, highlighting the integral role that information and communication technologies play in everyday lives, and their role in University operations. The concept of design thinking is meant to promote and enhance thought processes which can lead to faster development for our nation and the region," said Eng. Kanhukamwe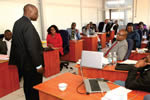 He urged participants to take advantage of the facilitators and learn from their knowledge and experiences.
Pro Vice Chancellor, Dr Maxwell Chanakira said the IDTL is the first of its kind to be established in the region, and plans are underway to make the IDTL a Centre of Excellence in innovation and entrepreneurship in Africa.