News
HIT Hosts Microsoft Corporate Vice President
The Harare Institute of Technology recently hosted the Corporate Vice President of Microsoft Corporation and President for Africa and the Middle East, Ali Faramawy at a Public Lecture on campus.
The Public Lecture was held under the topic – "The Microsoft Strategy" and was attended by the HIT community.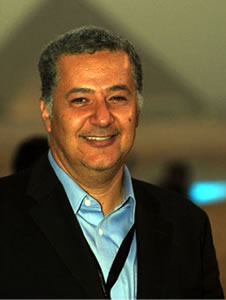 As Corporate Vice President of Microsoft Corporation, Ali Faramawy is a key member of Microsoft's international leadership team that is responsible for the company's global strategy with a particular focus on emerging and high growth markets. As President for Microsoft Middle East & Africa (MEA), Ali is directly responsible for Microsoft's operations in MEA, one of thirteen areas that comprise Microsoft's worldwide operations. The Area represents one of Microsoft's fastest growing and dynamic markets and certainly its most diverse one. Microsoft MEA operates through 32 offices and covers 79 countries across three continents.
Ali is known for his passion for people and technology. Throughout a long career in the IT industry, Ali held different technical, sales managerial and executive roles in different parts of the Middle East and in Europe with companies including Dun & Bradstreet Software, NCR Corporation, Yokogawa Marex and Microsoft Corporation.
He joined Microsoft in October 1997 as the General Manager of Microsoft Egypt. After a successful four-year tenure in that role, he assumed additional responsibilities for the area of Eastern Mediterranean, which included Egypt, Lebanon, Jordan, Cyprus & Malta. In May 2002, Ali was named as the Regional Director for sales, marketing and services for the newly established Microsoft Middle East and Africa Area. In this role, he led the efforts to transform and grow the company's presence establishing its regional headquarters. In 2004, he was promoted to President of Microsoft Middle East and Africa and in 2011 to Corporate Vice President of Microsoft Corporation.
Ali graduated from the Faculty of Engineering, Alexandria University, majoring in Computer Science & Automatic Control and has a MBA in Strategic Marketing from the University of Hull in the UK.  He is married and has two sons. He loves the IT industry and its impact on empowering people and transforming industries. He is passionate about the future of people in emerging markets. He also enjoys music, reading and the occasional round of golf.
Ali served on a number of advisory committees and boards including the Advisory Committee for the President of South Africa (2005-2008), the US-Egypt Business council (2006-2008). He is also a non-executive board member of the Egyptian Kuwaiti Holding Company, and a member of the advisory board of the American University of Cairo School of Business. Ali is also the chairman and founder of "Masr.dot.Bokra" Foundation which he established in 2013 to help in developing the skills of youth in Egypt.