News
HIT Partners Homelink in 2nd Women Entrepreneurship Training
A Women Entrepreneurship Development Training (WEDT) programme was conducted by Homelink Finance Services in partnership with the Harare Institute of Technology's Technopreneurship Development Centre (TDC) in Gwanda from 19-23 March 2018 in Gwanda under the theme 'Entrepeneurship Mindset For Sustainable Businesses'.
Over 100 women from Gwanda and the surrounding areas were trained and awarded entrepreneurship certificates after completing theone-week entrepreneurship training programme. The initiative is designed to help women start business and build their capacity as future business leaders.
In her opening remarks, Reserve Bank of Zimbabwe Deputy Governor, Dr Jesimeni Chipika said the Homelink and Harare Institute of Technology's Women Entrepreneurship Development Training (WEDT) programme is critical in capacitating women entrepreneurs in the country. "I am convinced that women entrepreneurs can drive economic growth. It is therefore imperative for stakeholders including Government, civil society and capacity building organisations to consolidate their efforts to improve women's opportunities and outcomes in global value chains and this is what this workshop is about," she said.
The Deputy Governor also commended the two institutions for working together in conducting this programme that will empower women, equipping them for the development of the country.
Homelink Financial Services Sales Manager, Ms Sibusisiwe Mashoko, said WEDT was being extended countrywide to capacitate women entrepreneurs in the fight against poverty and enhancing economic growth. "Investments in women are now widely recognized as crucial to achieving sustainable development. Economic analysts say low levels of education and training, poor health and nutritional status and limited access to resources not only adversely affect women's quality of life, but limits productivity and hinder economic efficiency and growth," she said.
Mashoko added that the Women Entrepreneurship Development Training (WEDT) programme will soon be rolled out to every province and district in the country targeting women with a strong desire to venture into business.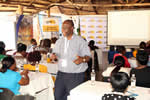 HIT Pro-Vice Chancellor Dr Maxwell Chanakira said the weeklong workshop was driven by the need for economic growth through women. "Women are the cornerstone of African economic development and strengthening women's role in finance and business management is one of the keys to boosting economic growth. Many women own small and medium business but fail to access financial institutions or are unable to receive financial services on adequate terms to meet their needs", he said.
After the completion of the Women Entrepreneurship Development Training (WEDT) programme, participants are expected to submit viable business project proposals, which will be funded by Homelink and RBZ.
Most of the participants paid tribute to HIT and Homelink for facilitating the workshop, which covered a range of topics such as basic management, pitching a successful business proposal, marketing, finance and business communications. Ms Evelyn Rugava, a young woman entrepreneur said this initiative came at the right time and is teaching women how to manage their small scale businesses especially when it comes to financial management. "In future we will be able to manage our finances properly, which will keep our businesses running," she said.
Ms Gugulethu Mnkandla, a University graduate said the programme gave her skills to create employment for others. "Through the training l have acquired and the funding l hope to receive, I aim aiming to open up a business and employ other graduates," she said.
Another participant Ms Zanele Nyathi said the programme was a timely intervention for women. "It was very educative and important such that women in Gwanda who attended the workshop benefitted a lot."
The Gwanda programme follows the success of the first WEDT workshop held at HIT in September 2017.