News
HIT holds Engineering competition
Trevor Mandeya Scoops First Prize in HIT 2016 Pre- NESAC Finals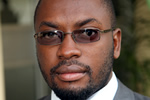 Trevor Mandeya, a final year Industrial and Manufacturing Engineering student won the first prize in the HIT 2016 Pre-National Engineering Students Awards Competitions (NESAC) oral presentations while Webster Rukweza from the same department also came first in the poster presentations.
The HIT 2016 Pre-National Engineering Students Awards Competitions (NESAC) were held on campus on 13 May.
Trevor Mandeya beat five other contestants with his Capstone Design Project entitled – 'Design of an Intelligent Eye Fungal Keratitis Screening System.' This is a system design to screen for eye fungal Keratitis ocular infection in early, medium and late stages, whilst improving access to affordability and accurate ocular healthcare services. The project also assesses the current eye fungal keratitis screening method in use in the local ophthalmological industry in a bid to solve the challenges of affordability, accessibility and accuracy of ocular healthcare services currently faced. Methods used include the generation of decision-making algorithms, electronic journals, experimental analysis and field surveys. The system is recommended for use in optical clinics and practicing ophthalmologists.
"I am quite overwhelmed by this achievement and I am going to continue working on developing the system to improve its accuracy so that it can have fully adoption in the optical health care industry for the benefit our people", said Trevor Mandeya.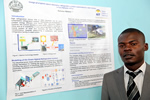 Webster Rukweza's poster presentation was entitled "Design of a 12000BTU/hr Commercial Hybrid Vapour Absorption Refrigeration System Customised For Retail Industry in Sub-Saharan Africa. "I am proud to be a winner in these competitions and from here I am going continue working on this project seeking venture capital for the commercialization of my project design", he said.
Trevor Mandeya and Webster Rukweza are now set to contest at the 2016 NESAC Final set for August.
All the contestants who participated in the preliminary-finals were from the School of Engineering and Technology.
Ropafadzo Jamakanga from the Chemical and Process Systems Engineering came second in the oral presentations with her project on the Design of an Integrated Wastewater Management System, Harnessing Biogas while Kupakwashe Dambanemweya from the same department also came second in the chart presentations with his project entitled "Design of a Plant to produce 1000 Litres per day of Kerosene from waste polythene plastics".
The other contestants in the oral presentations were Kutendakwedu Chisango, Prince Kanengoni, Lenard Makukumidza and Kudakwashe Musonza. Tanaka Masocha, Comfort Mhlanga, linnet Jumo, and Tashinga Chakaingesu also participated in the chart presentations.
In his opening remarks, Dean of the School of Engineering and Technology Mr. P. Muredzi said that the Harare Institute of Technology has won the last two NESAC Finals in 2014 and 2015 and he is very proud of this achievement by HIT students. "We have set very high standard such that we have to compete amongst ourselves every day. Our students presenting their projects today in these competitions are showing that there is no shortage of talent in the engineering sector. We must utilise and maximize this talent for our national industrialisation", he said.
Dean Muredzi paid specially tribute to the organisers of this event, the Zimbabwe Institution of Engineers (ZIE) and the Engineering Council of Zimbabwe (ECZ) for sponsoring these competitions while calling on employers to demonstrate that engineering can provide satisfying and rewarding careers.
Guest of Honour, Engineer M. Manuhwa of the Engineering Council of Zimbabwe (ECZ) applauded the participants for coming with innovative projects which seek to offer global solutions to the challenges we are facing. "I was very impressed by the quality of presentations by HIT students as their innovations are offering solutions to most of the globally problems. All the projects are seeking are in line with the Sustainable Development Goals (SDGs) which are affordable clean energies, clean water and sanitation, climate action and sustainable cities and communities just but to mention a few", he said.
Engineer Manuhwa called on the students to be brave and embrace global grand challenges and focus on exponential technologies like artificial intelligence and robotics, nanotechnology, networks and computer systems as well as cluster computing and big data. "The Engineering Council of Zimbabwe (ECZ) will be giving an innovation award at the 2016 NESAC Finals", concluded Eng. Manuhwa.
A panel of engineers from the Zimbabwe Institution of Engineers (ZIE), Engineering Council of Zimbabwe (ECZ) Confederation of Zimbabwe Industries (CZI), Scientific and Industrial Research and Development Centre as well as the Zimbabwe Manpower Development Fund (ZIMDEF) adjudicated the competitions.