News
HIT Responsive to Industry Demands: Vice Chancellor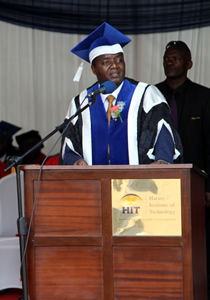 HIT Vice Chancellor Engineer Quinton Kanhukamwe has reiterated the University's commitment to nurture graduates responsive to industry demands, and is dedicated to helping shape an industrial renaissance.  
Eng. Kanhukamwe said this while addressing the Harare Institute of Technology 9th Graduation Ceremony held on 2 November 2018, where President of the Republic of Zimbabwe, Cde Emmerson Mnangagwa was installed as the University's second Chancellor. The President also officiated at the graduation ceremony soon after his installation, and capped 364 graduates who excelled in various engineering, industrial sciences, technology, information sciences, business and management sciences and entrepreneurial disciplines.
"We are passionately committed to growing interdisciplinary and multidisciplinary expertise and creative thinking, together with practical application and problem solving directly relevant and responsive to various sectors of our economy and the lives of the communities we serve," said Eng. Kanhukamwe.
"We will deploy our distinctive research capabilities to make new discoveries, to innovate through practice and to generate ideas and a culture that enriches the economy and country. Our unique mix of interdisciplinary expertise and collaborative clustering will help to solve complex local and national problems," he said.
"By building on what we have achieved and embracing the possibilities of digital, economic and social transformation, HIT will help to shape the future for rapid industrialisation and modernisation of our economy. Our task is to bring the talents of our staff and students together with industry and the community to renew ourselves through teaching, learning, research and collaborative innovation, in order to generate research outputs with societal impact."
Eng. Kanhukamwe added that HIT shall strive to uphold and deliver on its mandate which is to develop, incubate, commercialise and transfer technology that contributes to the industrialisation and modernisation of Zimbabwe.  "Our destiny is to be the stimulant of scholarship in innovation, and over the years HIT has made significant inroads in development and innovation. The institution's research output had been characterised by production of relevant outputs such as intellectual property," he said.
He said the institution is currently incubating several start-up projects which included Foodtech (Private) Limited, a company wholly owned by HIT through its commercial arm Institech Holdings. Other start-up projects by HIT are PowerTeam Technologies and LADS (Private) Limited. PowerTeam is responsible for transformer manufacturing based on patented designs by HIT, while LADS develops business solutions' softwares for local authorities.
HIT is one of the six tertiary education institutions selected to develop an innovation hub. These hubs will enable the development, incubation and commercialisation of new technologies including the start-up projects.
"Furthermore, increasing efforts are being made to speedily deal with investors that have approached us with interest to invest in infrastructure development, particularly with the construction of student hostels. Most of these investors have responded to your call Your Excellency, that Zimbabwe is Open for Business. We hope to conclude the discussions and establish mutually beneficial build, operate and transfer agreements with these investors," said Eng. Kanhukamwe.
Eng. Kanhukamwe said the University was also seeking collaborations with other universities in line with President Mnangagwa's foreign policy stance that Zimbabwe should claim its space in the community of nations. He said the institution was ready to carry forward the President's vision on the use of technology to develop the country, especially through the introduction of innovation hubs.
In his congratulatory message to the graduands, Eng. Kanhukamwe urged them to gird themselves and be ready for the season of change. "You are graduating at an opportune time when our nation is entering the era of the Fourth Industrial Revolution where we are moving into a sea change society, where everyone should be a technopreneur. The Zimbabwe you are about to inherit today is beset with great challenges, which means there are innumerable opportunities," he said.