News
HIT Software Engineering Student Scoops the Energy Globe National Award 2016
Clive Nyapokoto, a final year Software Engineering Student is this year's winner of the Energy Globe National Award after his Vermicompost - Vermi-Aquaponics (VA) System project was honoured by Advantage Austria the official Trade Promotion Organisation (TPO) which recognises success in green technologies and organisers of the Energy Globe Awards.
Clive was awarded the Energy Globe National Certificate Award at the prestigious 2016 Energy Globe Award Ceremony in Rosebank, South Africa on the 22nd of June 2016. Nine other winners from the African continent also received their National Awards among them Lesotho, Zambia, Tanzania, Morocco, Botswana, Namibia, South Africa and Gambia.
The Vermicompost – Vermi-Aquaponics (VA) System project is a students' run agro-based start up with its main focus being the improvement of organic agriculture.
The VA system is a smart integrated organic agricultural system which integrates Aquaponics, vermiculture, small livestock and ICT technologies in a controlled looping environment. It is a smart soilless farming system which can be modeled to suit any climatic region for food production and can be done as vertical indoor/ outdoor farming. Sensors are used to remotely monitor and control the system. Sensed data can be visualized on different web platforms.

The VA system uses worms as a waste management tool in order to convert kitchen and paper waste into rich organic fertilizer which can then be used for organic agriculture. The worms are used as nutrition for fish and chicken. Chicken droppings and small livestock waste is used to feed the fish supplementing the worms and to maintain PH levels in the fish tanks as well as bedding for the worms. Fish waste rich water is used to grow the plants in a soilless environment (Aquaponics). Fish waste rich water is used for Aquaponics which is a food production system that combines conventional aquaculture (raising aquatic animals such as snails, fish, crayfish or prawns in tanks) with hydroponics (cultivating plants in water) in a symbiotic environment.
The organic manure made by the worms (vermicompost) is used in no dig garden concepts and the liquid fertilizer used to supplement the nutrients in the grow beds for plant growth and to increase bacteria for the system.
The system needs only little space due to the closed loop system which was created where each element depends on each other. Nutritious food is provided for families and markets are created to sell the surplus coming from minimal resources. The soil fertility has increased since the implementation of the project and more organic crops are grown. 800 farmers are using the system and started to sell the worms to a local company which produces organic fertilizer. A functional model has been developed which is suitable for both outdoor and indoor farming
Clive developed a software application that monitors and maintains the units without having to go there, which reduces time and efforts. Vermicompost is four times more efficient than artificial fertilizer without the negative side effects of polluting water and the environment. It can be used in urban areas since it needs so little space. Two plots have been designated for the implementation of the project, in Harare and Wedza. Furthermore, one of the major hotel groups has adopted the system and composts all of their kitchen leftovers and office waste paper by worms. The manure is used to create a kitchen garden for the hotel.
"After developing a functional prototype in 2014 a local Non Governmental Organisation Panhari, assisted with a small grant to start a bigger system which is currently work in progress in Marondera Svosve communal lands. In July 2015 the system was among some of the top 40 innovations in Zimbabwe at the Innovation Baraza that was sponsored by the United States Embassy in Zimbabwe. The VA system was selected in the top 16 Agro- based innovations by the Idugu Institute in December 2015.
In April 2016 the Project was selected as part of the Zimbabwe Social Entrepreneurship Boot Camp, a six months intensive training programme funded by the United States Embassy for on how to run social enterprises in Zimbabwe", said Clive.
Growing up in a rural community and a family of farmers where Clive and his siblings were required to do field chores before going to school and later on being exposed to permaculture, the labour which was required to yield more produce was intense hence Clive embarked on researches and development of better and efficient ways and methods of practicing permaculture. 
Clive cited lack of funding to acquire proper hardware and building of infrastructure as the major challenges being faced to put the project to large scale. This project is the future of farming especially in the ever changing climatic conditions and economically challenging environments. It is going to increase food productivity for both urban and rural farming communities", said Clive.
The Vermi-Aquaponics (VA) system has a lot of advantages as sustainable agricultural system. There is no need to be present at the unit every time as you can monitor and maintain your system remotely thus saving time and allowing one to carry out other tasks. Information and Communication Technologies are more efficient in the monitoring and maintenance of the system. The system is energy efficient as it requires less electrical energy to power the unity - a small solar unit can power up a very large system efficiently. The various produce is organic and very nutritious. Space utilization can be done anywhere even on places were the soil is said to be poor or on roof tops and allows for vertical farming. There is also no need for artificial chemicals thus saving money and no digging, no weeds, saves water by almost 90%. Vermiculture is a waste management technique that uses bacteria and it gives multiple revenue streams.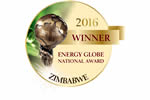 The National Energy Globe Awards distinguish best project submissions from a country and it aims to strengthen society's awareness of the necessity for ecological change, by honouring outstanding best practice projects in environmental sustainability from all parts of the world. With more than 177 participating countries, the Energy Globe Award is today's most prestigious environmental award worldwide. It is awarded annually to projects focusing on energy efficiency, renewable energies and the conservation of resources. The awards for these many projects are presented in their recipients' individual countries in cooperation with our partners, in particular with the international offices of the Austrian Chamber of Commerce.
National winners receive an Energy Globe Certificate highlighting applicant and project, signed by Energy Globe jury chairperson Maneka Gandhi and Energy Globe initiator Mr. Wolfgang Neumann.
The ENERGY GLOBE Certificate is an internationally recognized hallmark for sustainability