News
HIT : Shooting star!
Best Faculty of Engineering Award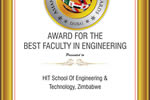 The School of Engineering and Technology received an Award for the Best Faculty of Engineering from Asian Education Leadership Awards forum for the hands on engineering and technology curriculum that meets the 21st century industrial demands whilst promoting innovation and entrepreneurship.
Visionary Leadership Award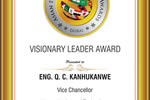 The same forum also awarded the Vice Chancellor a visionary leadership award for demonstrating excellence in academic leadership as the leader of an Institute that has surpassed common standards in engineering curriculum. The two awards were received in Dubai.
Outstanding Contribution to Education Award
The Vice Chancellor also received an award of outstanding contribution to education in Mauritius during the India-Africa summit in recognition of the path he has chosen to strengthen relationships and build on strengths of Economic Value and Human Capital Development of Africa.
The gathering witnessed more than 400 top leaders in Banking, Education, Telecom, Pharmaceuticals, Oil and Gas, Mining, Insurance Market, Travel and Tourism, Agriculture, Manufacturing and Services Sector from the whole of Africa.
Award for Best Practices 2013
HIT also got an Award for Best Practices 2013, run by the European Society for Quality Research (ESQR), which recognizes the outstanding commitment, support and results in quality management strategies organisations. The award was given on 7 December 2013.
The European Awards for Best Practices program takes a comprehensive look at the hard work that leaders put into their companies and organizations; it recognizes the efforts of exceptional and talented employers and employees and provides motivation for continuous progress.
The European Society for Quality Research (ESQR). ESQR excels in promoting existing studies and carrying out cutting-edge researches on quality management to demonstrate the economic and social benefits of quality models to organizations. ESQR's research strategy is focused on the efficiency of quality approaches and inventing superior new tools and techniques for their implementation in a wide range of disciplines and sectors. It covers areas such as: customer service strategic product development and performance measurements.