News
HIT Technology Centre Installs Solar Driers in Mutoko
It was all joy and celebrations for women at Loti and Rukovo business centres in Mutoko district as they received and witnessed the first installation of Solar Driers from the Harare Institute of Technology's Technology Centre for their horticultural projects.

The two Solar Driers are meant for drying and preserving fruits and vegetables.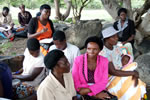 Speaking at the installation ceremony, Mrs Katsiga, the womens' project coordinator expressed gratitude to the Ministry of Women Affairs, Gender and Community Development and the United Nations Development Programme (UNDP) for helping them to procure the Solar Driers from the Harare Institute of Technology. "We were used to drying our vegetables in the open, but today we have been given these Solar Driers which will improve the quality of our dried products and our businesses", she said.
A representative from the Ministry of Women Affairs, Gender and Community Development, said her ministry has a mandate to empower women, especially those in the rural communities such as Mutoko where a lot of women are engaged in horticultural and fruit production. "We want to make sure that there is food for the whole family and we also intend to improve the food and nutrition of the whole community. Therefore, we saw it fit to empower these women with food preservation skills and (the attendant) technology to make sure that their families are healthy and to also help them in their income generating projects. This is in line with the ZIMASSET Agenda on women empowerment and value addition", she said
Mr Nyanhanga, a local community leader in Mutoko said the installation of the Solar Driers is a progressive initiative as a lot of vegetable growers were losing a lot of their produce before it reached the market; given the perishable nature of most fruits and vegetables. "The installation of these Solar Driers will improve the lives of women in our community as they are going to sell their dried vegetables and fruits at high prices", he said.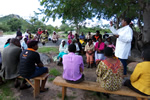 Ms. Nancy Denhere, a food technologist from HIT's Food Processing Technology Department, educated the women on some food preservation skills while the Acting Director of HIT's Technology Centre, Eng. N. Chirinda and his team of technicians trained them on how to operate and maintain the Solar Driers.
The Technology Centre's Forced Natural Convection (FNC) solar driers are cabinets where foodstuff is placed inside by spreading it on layered trays. The average temperature inside the cabinet when the door is closed is raised by means of a Solar Collector (SC) to reduce water content in the foodstuff through heat exchange and dehydration. Chimneys are also installed at the top of the cabinet to control and extract relative humidity, thereby accelerating drying time.
The advantages of using an engineered solar drier as compared to a traditional one are that it is hygienic, has improved storage conditions, reduces post –harvest product waste and improves quality of dried products, among others.
The solar driers are manufactured by the production unit of the Technology centre, and are part of a larger, concerted effort to enhance commercialisation; -a key mandate of the Harare Institute of Technology.