News
Innovation in ICTs Workshop Inspires Students
The School of Information Sciences and Technology hosted the Innovation in Information and Communication Technologies (ICT) Workshop under the theme "Igniting Success Through Innovation' on 20 April 2018.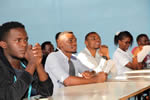 In his welcome remarks, Chairman of the Computer Science Department Mr Innocent Mapanga said the Innovation in ICT Workshop was held to promote innovation and technoprenuership. "This is a platform to network, learn and share information pertaining to innovation and technoprenuership," he said.
The workshop was graced by young innovators, players from the ICT industry, government, members from the academia, staff, students and other stakeholders who are committed to supporting young innovators.
Among the major presenters were  Postal and Telecommunications Regulatory Authourity (POTRAZ), TelOne, Ambassador Mubi of DPAKAM-OPC, Mrs Chahuruva representing the Computer Society of Zimbabwe, Tendai Garandi, a Silcon Valley entrepreneur, Edmore Munedzimwe, a Microsoft Application Developer, Dominic Tapfuma of Purple Signs and Clive Nyapokoto, an HIT student and Founder of Shift Organic.
A representative from the Postal and Telecommunications Regulatory Authourity (POTRAZ) gave a presentation on what the government; through the Ministry of Information Communication Technologies and Courier Services  expects from students and the academia as well the functions of the Innovation Fund and how to access it. "Government established the Innovation Fund to support ICT young innovators in the country and is also working together with other stakeholders to create an environment that motivates young people to participate to their full potential in the  development of ICT's. The country can not continue to rely on ICT applications and solutions developed from other countries," he said.
Tendai Garandi, a Silicon Valley Entrepreneur gave a chronicle of his life as a young entrepreneur in Silicon Valley as well as outlining what the world is looking for from young innovators in ICT's. Edmore Munedzimwe, an application developer with Microsoft urged young Zimbabwean innovators to position themselves to be marketable and compete with other young innovators from Kenya and India during his career guidance presentation.
Clive Nyapokoto, an HIT student and global award winning entrepreneur and founder of Shift Organic, described his journey to the spotlight urging his collegues to work hard and be determined to come up with innovative ideas and projects in ICT's that are marketable globally as well as empowering their communities.
Ambassador Mubi from DPAKM-OPC gave a presentaton on how ICTs can assist in branding Zimbabwe while Mrs Chahuruva presented on the operations of the Computer Society of Zimbabwe.