News
Lecturer Scores a First Class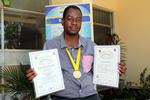 Madzokere graduated with distinction at a graduation ceremony held on 8 November.
"I appreciate the opportunity given to me by the Institute to study a hands-on programme," said Madzokere. "The programme resonates with the Institute's mandate and we can no doubt cascade this knowledge to our B. Tech programmes.
Madzokere says Nanotechnology is a new science and engineering discipline still to be embraced in Zimbabwe and Africa as a whole. However, he adds, nano-materials have the potential to transform lives because of their ability to have multiple uses.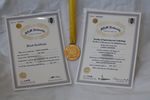 "I am really happy to have this qualification and my hope is to pursue doctoral studies in mineral extraction and environmental pollution control.
Madzokere joined HIT in 2009 as a Teaching Assistant. He is part of the research fellows who have been sent abroad for staff development programmes in various specialist areas covering science, technology, engineering and mathematics. Over 100 fellows have been trained to date.