News
Military Hails HIT Mandate
The military has endorsed the Harare Institute of Technology as an institution that plays a pivotal role in national development.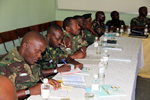 Speaking during a study visit at HIT by the Zimbabwe Staff College Joint Command and Staff Course Number 29, Wing Commander E. Khupe (Chief Instructor Air Power) said the Institute is making tremendous strides in technology development, which is very vital for national security.
"This visit is part of our mode of instruction on technology. We visit institutions that are dealing with technology, and we expect our students to learn as much as possible in as far as technology and national development are concerned. We are here to learn what you are doing and how it relates to national security," said Wing Commander Khupe.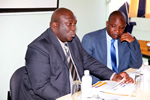 Participants and instructors of the Joint Command and Staff Course Number 29 were also shown some of the various Capstone Design Projects by HIT students and graduates during a tour of the campus' departments, laboratories, workshops and Centres of Excellence. Prior to the tour, the delegation were given an overview of the Institute's establishment, structural functions, mandate and overall contribution to the nation by Dr. T. Padenga (Dean -School of Information Sciences and Technology), Mr P. Muredzi (Dean - School of Industrial Sciences and Technology), and Mr W. Gwarimbo (Dean -School of Business and Management Sciences).
Over 50 officers drawn from the Zimbabwe National Army, Airforce of Zimbabwe, Zimbabwe Republic Police, Zimbabwe Prisons and Correctional Services, Office of the President and Cabinet, Nigeria and SADC countries comprising Malawi, Namibia, Tanzania, Swaziland, South Africa, Tanzania and Zambia are attending the Joint Command and Staff Course Number 29 run by the Zimbabwe Defence Forces Staff College in Harare.