News
More international partners' court HIT

In a show of confidence in the Harare Institute of Technology brand, international universities and organisations have signed cooperation agreements with the Institute.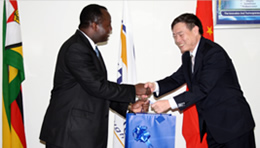 A delegation of the Guiling University of Technology from the People's Republic of China recently visited HIT and signed a Memorandum of understanding that promotes and furthers scholarly exchanges through: staff, students, academic materials exchanges, joint research and holding of symposiums.
The delegation was led by the Chancellor of the University, Professor. Zhang Peng, comprised of Professor Liu Zhansheng, Dean of the Bowen School, Professor Li Zhi, Dean of the College of Arts and Professor. Shi Zhuxin a Senior Administrator. During the signing ceremony, Professor Peng said they had approached HIT because of its curriculum that promotes innovation and technoprenuership and was expressed optimism that fruitful projects could be grown out of the agreement.

HIT also signed another Memorandum of Understanding with Eskisehir Osamangazi University of Turkey that promotes co-operation in areas of teaching and research, exchange of staff, technology development, transfer, incubation and commercialisation, publications, teaching, supervision and examination of students.
Eskisehir Osmangazi University (ESOGU) is a state university that was initially founded as Medical & Engineering Faculties in 1970. Currently, ESOGU has 5 campuses including 7 faculties which offer 25 different undergraduate and 10 associate degree programs in 3 vocational schools. It has more than 14 000 students and its commitment to the highest standards in teaching and research has led it to become one of the leading universities in the Central Anatolian region of Turkey. HIT was particularly impressed by the university's science park.
Meanwhile, HIT's has also signed yet another milestone agreement with a London based pan African organisation iecoAfrica, which is a business network that provides members with access to qualitative evidence-based research and useful insights into CSR and social investment strategies in Africa, supports sustainable products and services from abroad access to different territories and markets in Africa and acts as resource and research base for governments who aim to invest in the best clean energy solutions.
IecoAfrica approached and contacted HIT because it carries out research in one of their core areas, which are environment (climate, water sanitation, agriculture, energy and waste), natural capital, health and industry.
The partnership entails iecoAfrica will work closely with university HIT staff to identify a group of present and/or past (alumni) top performing academics, who will represent at the highest level the Institute/ iecoAfrca partnership and facilitate research in some or all of the above research areas for the network. The allocated group of researchers will also be capable of conducting consultancy services on behalf of iecoAfrica, but also as representatives from the university.
The MoU will be implemented by HIT Enviro, a division of the Department of Chemical and Process Systems Engineering.