News
President Mugabe Caps 277 HIT Graduates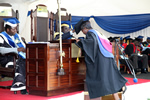 President Mugabe capped 277 graduates at the fifth graduation ceremony of the Harare Institute of Technology that coincided with the installation of Engineer Quinton Kanhukamwe as the first Vice Chancellor.
This is a marked increase compared to last year's figure of 182.  Among these were 5 first class degree passes, all from female students.
The graduates obtained Bachelor of Technology (Honours) degrees after excelling in disciplines that include engineering and technology, industrial sciences and technology, information science and technology, as well as business and management sciences.
Of the 277 graduands; 202 were male and 75 were female.

In his official address at the graduation ceremony, Vice Chancellor Eng. Quinton Kanhukamwe said the HIT Fifth graduation has seen the university being part of the cutting edge in technology development and innovation in the country.
Vice Chancellor Kanhukamwe also said the Institute has embraced the government's ZIMASSET economic blueprint for research on solutions to industry, business and the generality of Zimbabwean people. "The institution was structuring its programmes in line with the country's economic blueprint, ZIMASSET. We have embraced the ZIMASSET blueprint and have come up with tactical plans that are re-energising our focus on technology and engineering designs that seek to address directly the myriad of challenges that are being faced by the ordinary people, industry, business and various service sectors of our economy. "HIT will soon embark on research projects that will  help realise ZIMASSET objectives," he said.


"Our Strategic Plan "Designing the Future" boldly states our commitment to the generation of research and development outputs that are commmercialisable and responsive to industry and national needs. It will guide us as we build a university with global connections, reach and impact, with a strong thrust in technical pedagogy. Your Excellency and Chancellor, we have embarked on a mission to give the nation the meaning and ability to build futures which for now, we cannot even imagine," said Vice Chancellor Kanhukamwe.
Eng. Kanhukamwe said that from the School of Industrial Sciences & Technology, the Department of Pharmaceutical Technology has made tremendous progress in developing herbs and herbal products and work is now at an advanced stage to commercialise the production of these medicinal products. "On the other hand our Pharmaceutical Technology Department has demonstrated beyond any shadow of doubt that solutions to our problems are within us. Through beneficiating locally available indigenous medicinal plants such as mungoza, aloe, resurrection tree and baobab, they have produced a wide range of herbal products that can compete with any import on the market. We are now exploring funding mechanisms to establish production lines that promote sustainable exploitation of our resources," said Vice Chancellor Kanhukamwe.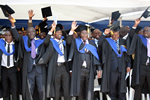 "It gives me great pride Your Excellency and Chancellor to announce that HIT registered its first patent this year titled Preparation of adansonia digitata flavoured soy milk based yoghurt with the African Regional Intellectual Property Organisation (ARIPO). We have also embarked on a massive preregistration process of all our patentable research prototypes. Our thrust at HIT is "Patent or Perish" as we move a gear up into the development, incubation, transfer and commercialization of technology," he said.
Vice Chancellor Eng. Kanhukanwe said the university had made several technological advances and had scooped local and international awards for its achievements. "During 2014, one of our own researchers, Engineer Rujeko Masike, was selected among twelve entrepreneurs that are affiliated to African Universities and Research Institutions as a recipient of the Royal Academy of Engineering (UK) Africa Prize for Engineering Innovation. The Prize is Africa's biggest prize for engineering and innovation and covers disciplines such as mechanical, civil, computing, biomedical, oil and gas, mining and electronic engineering. As her award-winning project, Engineer Masike designed an integrated crushing machine for sustainable gold mining". The crushing machine is designed as a very portable machine, which scaled down the jaw and roller machines. It is built from locally available materials and this makes it highly affordable. Its portability, size and affordability make it very suitable to small-scale and medium-sized mining local miners.
Notwithstanding its vast achievements, Eng Kanhukamwe said the university faced some challenges especially on funding. "No funding has been forthcoming despite having an extremely complex mandate which is equipment and consumables intensive," he said.

"It is our sincere hope that cadetship disbursements improve so we are capacitated to respond to transport deficiencies within the university as well as responding to other operational challenges".
In his congratulatory message to the graduands, Vice Chancellor Kanhukamwe encouraged them to allow innovation, leadership, integrity, commitment and professionalism to be the hallmark in all their endeavours. He urged the students to become the stimulants of technology development, incubation, transfer and commercialisation. The ultimate goal: Zimbabwe's rapid industrialisation.
"May I also take this opportunity to congratulate all graduands for your achievement.  You have made it. Your perseverance, hard work, patience and dedication is indeed being recognised today. God bless you all and Makorokoto, Congratulations, Amhlope!" he said.
"In conclusion Your Excellency, at HIT we shall continue to live up to our mandate and contribute positively to the technological success of Zimbabwe and enable it to become a master of its own destiny," said Eng. Kanhukamwe.