News
President Mugabe caps 320 HIT graduates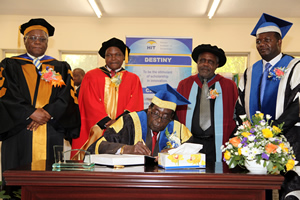 His Excellency the President of the Republic of Zimbabwe and HIT Chancellor, Cde Robert Gabriel Mugabe capped 320 graduates at the University's Sixth Graduation Ceremony that coincided with the institution's 10th Anniversary Celebrations.
President Mugabe conferred the graduands with Bachelor of Technology Honours Degrees. Among the graduates were 105 students from the School of Engineering and Technology, 40 from Industrial Sciences and Technology, 124 from Information Science and Technology and 51 from Business and Management sciences.
Out of the 320, 14 passed with first-class degrees.
Speaking at the event, HIT Vice Chancellor, Engineer Quinton Kanhukamwe said the university had lined up a series of activities through-out the year rallying under the tagline Celebrating Innovation, Championing Technopreneurship. Eng. Kanhukamwe said the institution continued to break new ground despite its tender age.
"From humble beginnings in 2004 with one school, we have grown to four schools with 15 departments," he said.
Eng Kanhukamwe said HIT was making great strides towards commercialisation of its technologies, some of which had already been registered as intellectual property. "To date, HIT has registered four patents, one utility model and 15 copyrights. These innovations range from an automated hydraulic machine for the mining industry, an intelligent tobacco grading machine, the indigenous traditional medicines project and a biogas digester. The university has made strides in developing a calcium carbide production plant used for the production of calcium carbide, a key raw material in the manufacture of acetylene gas, fertilisers and in steel making. The university is in the process of up-scaling these among others for industrial application," said Eng Kanhukamwe.
He added that these projects are a clear testimony to the university's commitment not only to Zim-Asset, but its contribution to rapid technological industrialisation of the country. Eng Kanhukamwe said since its inception in 2008, HIT had gone a long way in infrastructural development which has seen the university constructing new buildings, refurbishing students hostels and procurement of equipment.
However, Vice Chancellor Kanhukamwe appealed for a Zimdef dedicated budget line to be availed to support the Institute's laboratory consumables and equipment.
"The uniqueness and complexity of our mandate in terms of its hi-tech equipment and consumables intensiveness, which make the programmes expensive to run, calls for increased funding support, especially when we consider that your university, Your Excellency and Chancellor, is not a numbers institution," he said.
Turning to the graduands, Eng Kanhukamwe challenged them to be patriotic technocrats who stimulate technological development, incubation, transfer and commercialisation.
Vice Chancellor Kanhukamwe said the institution was making strides towards the commercialisation of its technologies and has so far designed and the registered a number of intellectual property rights.
Engineer Quinton Kanhukamwe hailed the government's 10-point plan for economic growth as it resonates with the institution's thrust. "The 10-Point Plan for economic growth has facilitated some of the university's research, development and innovation outputs. Your unwavering commitment to the total emancipation and empowerment of Zimbabweans as witnessed by massive investment in education and higher education has made this day possible," he said.
The Acting Minister of Higher and Tertiary Education, Science and Technology Development, Dr Ignatius Chombo, Deputy Minister Dr Godfrey Gandawa, Minister of State for Harare Metropolitan Province Minister Miriam Chikukwa, Minister for War Veterans, Cde Chris Mutsvangwa HIT Board Chairperson Dr Gibson Mandishona and the Institute's Board members were also amongst some of the dignitaries who attended the Harare Institute of Technology's Sixth Graduation Ceremony.